Fitbit Activity Trackers $41.99 - $77.99 After 40% Off - Telus Walk To Cure Diabetes - In-Store Only, @ Telus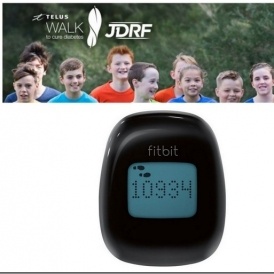 On behalf of the Telus Walk to Cure Diabetes, in support of the JDRF Foundation, here is a fantastic opportunity to be able to purchase a Fitbit activity tracker wearable at a substantially reduced price (40% off of regular retail value) at a Telus store near you, while supplies last, until June 30!
In order to receive this 40% discount, there are specific instructions that need to be followed, but don't worry, it's simple! Just bring a printout of this webpage into your nearest TELUS store and use the coupon code DISC-40FB to take advantage of this special offer. (Available while quantities last.)
You can select from the following Fitbit products:
• a Fitbit Zip activity tracker for only $41.99 (reg. price $69.99)
• a Fitbit One activity and sleep tracker for only $71.99 (reg. price $119.99)
• a Fitbit Charge activity and sleep wristband for only $71.99 (reg. price $119.99)
• a Fitbit Flex activity and sleep wristband for only $77.99 (reg. price $129.99)
Some of these models are advanced enough to track heart rate and sleep patterns, as well as receive text and message notifications!
Donations will even be made to help toward Juvenile Diabetes research when you use your Fitbit and attend the TELUS Walk to Cure Diabetes in Toronto, Edmonton or Vancouver.
Fitbit is one of the very best names around for activity trackers and it is clear that they hold a high quality standard toward both their products and the apps that support the products. We are familiar with the Fitbit One activity tracker in our home, and it is an extremely effective means of measuring daily activity levels. Ideally, a wristband one is probably optimal, especially when you factor in that some of the wristband models allow you to receive text and message notifications on it!
(Deal expiry: June 30, 2016, or while supplies last.)