Dickies Canada Promo Code: 25% Off Everything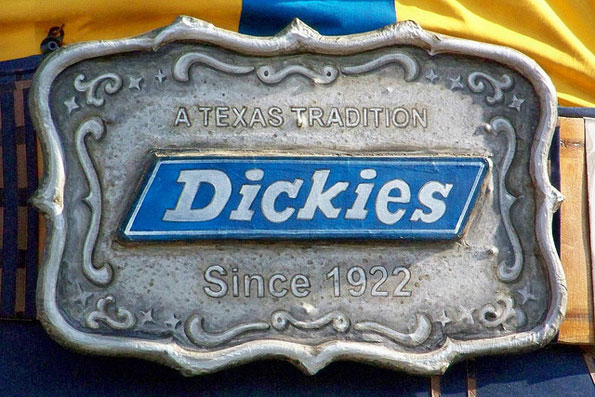 Until the end of the week, you can use the promo code below to save 25% off everything site wide at Dickies, including merchandise that has already been reduced.
Click here to shop @ Dickies.ca now
Coupon Code: CIVICDAY
Discount: 25% off
Expiry: 27th July 2014
The picture above inspired me to look up the history of Dickies as a brand and oddly enough, although "since 1922" can be read on the belt, I found that it was officially started in 1918 instead. As it turns out, the original founder originally debuted the brand as a "vehicle and harness" business that was then re-purposed to a manufacturing company in 1922.
Although now Dickies is more renown for their work clothes, I have actually gotten my dad a couple of everyday kind of shirts to wear from there as well as he finds them to be super comfortable and durable. Just recently, I got him the pocket tee, which is now on sale for $9.09 (reg. $12.99) and which comes down to $6.82, and he couldn't be happier. It's only available in 2x-large but it's just an example of the kind of prices you can expect to potentially find, especially once you plug in the Dickies promo code.
From the men's clearance category, I found the Arctic region jacket on sale for just $36. Although it's reduced in price, it's available in all sizes and the best part is that it was originally priced at $89.99, but gets even further reduced with the code above to just $27. That is an amazing price to pay for a winter jacket with 100% cotton and a rugged duck fabric. For any of you with hubbies who work outside (or if you, yourself do), then this is definitely the kind of jacket that you likely won't find anything cheaper than that!
Their online inventory is also comprised of women's merchandise but it's not nearly as vast as the men's. You can choose between either pants or scrubs with a total of 13 items to choose from. Keep in mind that by scrubs, Dickies is making reference to hospital-wear, though I suppose it could also be used by vets or any kind of medical staff in general. Among their selection of pants, I did, however, find a cargo pant that could be worn to an office-type setting as they are black and semi-fitted. They're on sale for $39.99 (reg. $49.99) and come further down to just $29.99 with the code. Even better is that they're cotton along with wrinkle and fade resistant. I expect that these are the kind of pants that will probably last a good long while.
Shipping is free on orders over $75.
(Image Credit: Brandi Korte)