Collect PC Points? Spend $75 and Get $20 in Free Groceries @ Joe Fresh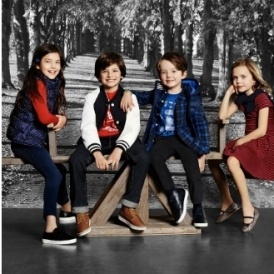 If you collect PC Points, you'll want to check out Joe Fresh right now. (And, if you don't collect them, you need to start at your local Loblaws/RCSS/No Frills/etc.!) When you spend $75 at Joe (what a great reason to start that back to school shopping!) you'll receive 20,000 PC points which is the equivalent of $20 free that you can use towards groceries or even Joe (in-store)! This offer is only valid online and not available stores.
All you need to do is link your PC Plus account to your Joe Fresh online account (full instructions are here) and, once you've made the minimum purchase, your bonus points are applied to your account a few days following the order's shipment. Easy as that.
We told you yesterday about the great clearance going on at Joe Fresh right now, where clearance items are up to half off, so that's a great place to start. They've also come out with their back to school fall line and there is some really cute stuff! I love these Girls' Super Skinny Fit Jeggings for $19 and this Boys' Melange Pullover for $24, but there are a ton of new additions to browse through.
Don't forget to link your PC Plus account before you shop!
(Expires: 24th July 2016)