Apparel Starting At Under $2 - Up To 50% Off Clearance Items @ Joe Fresh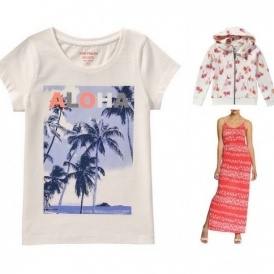 Joe Fresh has proven to be an extremely popular website to purchase trendy, stylish fashion at a reasonable cost. Now the cost is even more reasonable, in fact it's awesome because you can take up to 50% off all clearance items!

The discount is automatically deducted from your item and will show up as the discounted price in your shopping bag. The product thumbnails even tell you what percent you are receiving as a discount, which is nice to know.
July 20 Update: In addition to the above offer, you will be interested in this offer if you collect PC Points. (20,000 PC points when you spend $75 or more!) If you don't collect PC points, you don't know what you're missing, they add up quickly and you can spend them as free cash toward your purchases at Superstore/Loblaws/No Frills! The 20,000 PC Points are worth $20. Make sure that you link your PC Plus account before you shop!
I love the look of this space dye racerback tank. It's $9.94 down from $16 and you can buy it in a charcoal mix or a blue mix.
This palm tree print dress is $19.94 down from $29. The colours are nice for a summer backyard BBQ, or a vacation in a tropical spot. You can choose a coral or black shade.

There are all sorts of socks and underwear on sale, too. It's always good to stock up on those when on sale.
Shipping is free when your order is over $50, or is $8 if you don't meet that threshold.
(Deal expiry: July 20, 2016)