Beyond The Rack Canada: Robeez Only $15 & Free Shipping On $30+ (EXPIRED)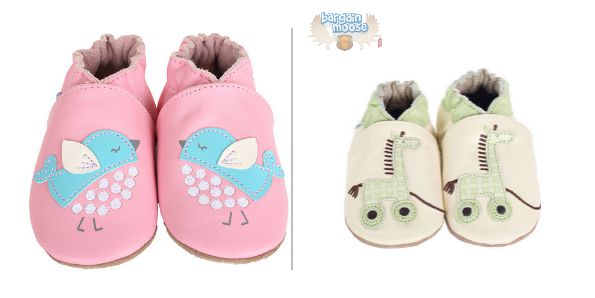 Beyond the Rack has a hot deal on Robeez shoes for babies and toddlers right now. They've got these iconic shoes on for regularly $30, down to $14.99. Also, until 3am tonight, you can get free shipping on a $30 spend at Beyond The Rack. Normally, you'd have to pay a pretty large flat fee for shipping, so this is the time to take advantage of this deal. I know those mommies up with babies at midnight will have fun shopping all the cute styles tonight.
I can remember my oldest son's first pair of Robeez like he wore them yesterday. They were a gorgeous blue with a puppy on them.He also had the booties in green. I also remember my middle son's first pair, which were red, although I forget what was on them, and my youngest had a teeny tiny set that was a limited edition pair. Its not hard to remember because I have all of them still in my keepsake box!
I remember asking my friends what was so good about Robeez and they gushed on and on about how they keep the socks on, are comfortable, allow room to grow, but protect their little feet when they do learn to walk. Plus, they are insanely cute. I wish I had paid $15 a pair, but I spent the minimum $30 per pair.
Seriously sweet, these dachshund soft sole shoes in brown are going to make some little girlie super happy. Regularly $30, they are on sale for $14.99. I know that the ones for sale on Beyond The Rack aren't the newest Robeez styles, although there are some that are new this year (spring/summer collection). I did find these on Amazon, selling for $26.
Generally, the soft soles sell for about $34 at Robeez, so this really is quite the steal. Even the sale ones are the lowest at $25.99.
We also had a pair of the mini shoez, which are great for new walkers as they have some protection in the sole. These London sneakers in navy were $44, on sale for $19.99. You can't get those for less than $30 at Robeez.
Last, I mentioned the booties. How much do you love these cozy ankle booties? My son used to wear his and that was it in the winter, maybe covered with a blanket. He wasn't walking yet, so they were perfect for the car set. Regularly $48, and now on sale for $19.99.
(Expiry: 11th August 2015 @ 3am)