Beyond the Rack Canada: Men's Underwear, Swimwear, Thongs & More Up To 80% Off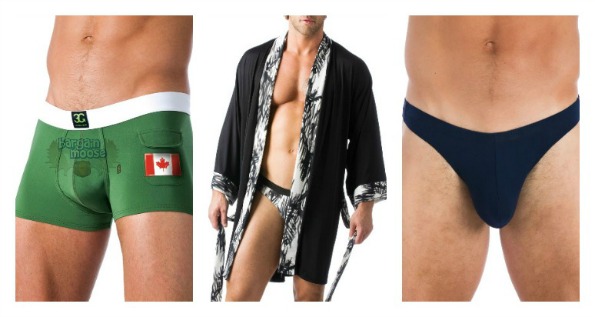 There is a great sale happening right now over at Beyond the Rack for the guys.  Save up to 80% on the Gregg Homme Collection of swimwear, underwear, thongs and more for a limited time only.
There are a ton of items to choose from with this Gregg Homme Collection. You will find everything from the basic pair of underwear and swim trunks, to some fun and risque thong items for men. This collection is described as for "The Confident Male", so there are some really fun pieces in it!  It is a great collection for that single guy that likes to stay current and likes to surprise his ladies, or for the married man that wants to spice things up a bit for his wife.
How much fun are these 3G Actualwear swimwear that were $61.95 and are now just $24.99? I love that they have the Canadian flag on them!  I also love these Realsilk Boxers in red that were $54.95 and are now just $22.99.  To be honest, I would want to buy one of each thing in this collection for my husband, because all of the pieces are just so much fun!
As for the cost of shipping, it will depend on how much and what exactly you purchase. The great thing is that if you find something else you want to buy later in the day, there will be no additional shipping charges because you will only have to pay one shipping charge per day.
(Expiry: 23rd July 2013)