Beyond The Rack Canada: Fun Kitchen Items Up To 40% Off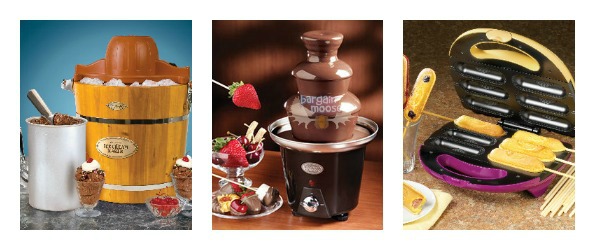 Beyond the Rack Canada is having a sale that ends tomorrow on really fun kitchen equipment by Nostalgia Kitchen.
I am all about healthy eating, but I love sweets from time to time. Ok I love sweets every day. I try to make my own sweets so I don't eat heavily processed packaged food. These Nostalgia items are great for making the treats you love in a healthy way, and much cheaper!
Cake pops are all the rage right now and this cake pop and donut hole maker makes them really simple. Imagine customizing your own little Timbits! Regularly $24.99, now only $19.99.
Another fun thing to make in the kitchen is cupcakes! This mini cupcake maker is easy and cute. Get your little chefs to help you instead of spending $50 on an Easy Bake oven, spend $19.99 (reg. $30) and make cupcakes with them.
I'm so excited about this soft pretzel maker kit. If there is one thing I love, it is chocolate-covered pretzels. The sweet and the salty... mmmmm.... This soft pretzel maker kit is so easy and it only takes three minutes to cook! Now only $19.99, regularly $25.
This carnival popcorn maker would make an awesome addition to a home theatre room. Cook theatre style popcorn right from your chair! Now only $69.99, regularly $80.
While you're at it, make some cotton candy too, and make it sugar-free! Now only $39.99, regularly $49.99.
As for the cost of shipping, it is about $11.95, but you get free shipping on the rest of your BTR orders for the day. If you are a first time customer, click here to use our exclusive coupon code for a $10 credit.
(Expiry: 25th February 2013)