Banana Republic, The Gap, Old Navy: 30% Off Today Only (Nov 21)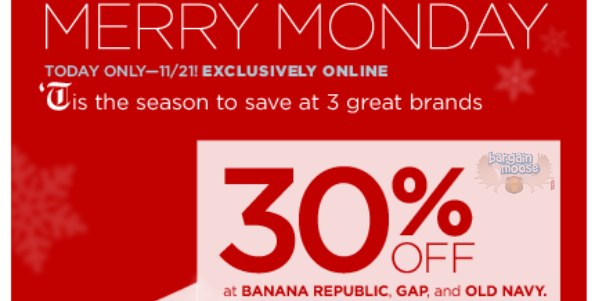 Happy Monday! Well, happy for some, and not so much for others. If you are looking to get some clothing shopping done today this could be a very happy Monday for you, as The Gap, Old Navy Canada and Banana Republic all have a 30% off coupon code for today only.
Discount: 30% off
Coupon Code: MERRY30
Expiry: Midnight tonight
All 3 shops use the 'same' checkout so achieving the minimum $50 for free shipping should be easy.
Not valid on Old Navy boots. Not valid on Gap Leather and Suede. Not valid on Banana Republic Men´s & Women´s shoes.
The coupon seems to work on sale items thought.
My favourite item by far on these websites is the The Mad Men Collection leopard print trench, originally $240. It is currently on sale for $195.99 and after coupon comes down to a sweet $137.19. Soooo tempting!
Thanks to Mooser Joy for posting these on the community forum.