Shop.ca: Orobotix Sphero Robotic Ball Gaming System $75 Off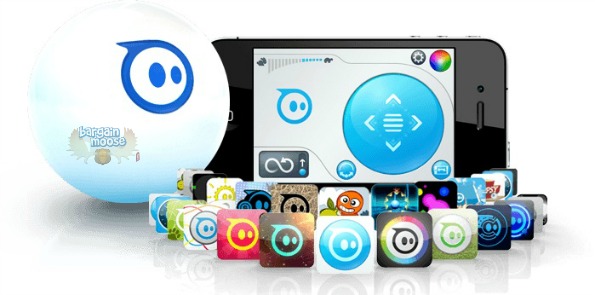 The Orobotix Sphero Robotic Ball Gaming system for iPhone, iPad, iPod Touch and Android Devices is only $129.99 at Shop.ca.
Acclaimed and featured by all the techie and financial magazines and websites as the year's hottest gift, Sphero is the newest type of game play out there. Our smartphone generation requested a gaming device that you control with a tilt, touch, or swing from your smartphone or tablet and that interacts seamlessly with mobile apps. You can test your own skills or play games with friends and a Bluetooth connection makes Sphero always ready to play.
This new type of mixed-reality (with real and virtual elements) gaming system is innovative and exciting. Several free apps are available for download and new ones are continuously being developed. Sphero is the size of a baseball, so it is easy to take with you wherever you go.
I don't know many teens out there who wouldn't love this new gaming system as a gift under the tree, and it is a gift for all ages. What a great way to wow your friends, have fun, while just using your smartphone device. Check out the other coupon codes for shop.ca on the Bargainmoose forum.
Shipping is always free at shop.ca.
Expiry: Unknown