Mega Bloks First Builders 100 Pc Set Just $7 @ Walmart.ca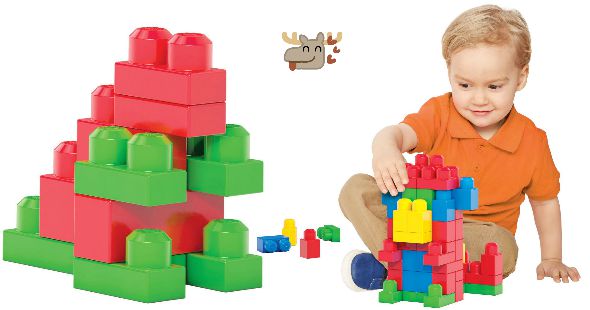 Christmas is coming - chances are that you have a toddler on your shopping list. Snag this Mega Bloks First Builders Let's Start Building set on clearance sale for just $7 at Walmart.ca and everyone will be smiling. Walmart Canada has a few different shipping choices as well.
The girls' (pink) version of this set sold out while I was writing, so if you want this 100 piece Mega Bloks set for just seven bucks then I would snag it now. The Mega Bloks First Builders Let's Start Building set from Walmart.ca has 100 pieces or 100 blocks, which makes it a steal for the low price of $7. 
These Mega Bloks are well suited for children ages 1 through 3. My son plays with his for hours on end. He build "robots" and "houses" and never gets bored. It is even more entertaining for him when I get involved and start building little things too! With 100 blocks I am sure there is more than enough for both you and your kiddo to create a masterpiece. If you don't believe me, then snag two of these sets to be sure.
Building blocks are a great toy for youngsters. They encourage open minds and creative play time. This set can even be combined with other Mega Bloks First Builders Set, so your kiddo should never get bored. The tub that these blocks come in is even reusable so you can continue to use it to store the blocks separate from the rest of your kids' toys. Challenge your child to see who can build a taller tower without it falling over. You will be surprised at how many times they win without you letting them win.
There are other Mega Bloks toys on clearance sale at Walmart as well, so have a look and see if there is anything else you want to wrap up and put under the tree this Christmas. When it comes to shipping, there are a few different options to choose from. Walmart.ca offers free shipping on orders over $50, right to your door. If you don't spend $50, then I suggest you either have your purchase sent to a local Walmart store that offers the Grab & Go Lockers. If you don't have that at your nearest Walmart store, then opt for free shipping to your closest Canada Post Office.
(Expiry: Unknown)