$24 For 24 Packs of PUR Gum & 2 Packs Of Mints + Free Shipping @ WagJag Canada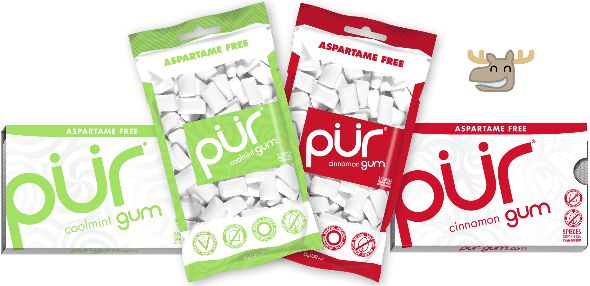 If you're anything like me, then you love PUR Gum. And if that is the case, then have I ever got the offer for you. Right now WagJag Canada has a fantastic offer on PUR Gum, which is your chance to get 24 packs of Aspartame-Free PUR Gum plus an additional 2 packs of bonus PUR Mints for just $24. This pack would normally be valued at $55 so you are getting quite the discount, especially once you consider that this package will ship directly to your home for free.
Hurry though, this offer expires in the evening tomorrow and already 970 people have purchase this WagJag.com offer. You can freshen up your breathe with this WagJag offer and save 56% compared to what it would cost elsewhere. This pack comes with quite a variety of flavours, and if you are already excited about Christmas then I am sure you can imagine that these packs of PUR Gum would make great stocking stuffers for almost the entire family.
Here is what you will get with this WagJag Canada offer for just $24:
4 pomegranate flavour
4 peppermint flavour
4 spearmint flavour
4 wintergreen flavour
4 coolmint flavour
4 cinnamon flavvour
2 packs of bonus mints
Gum is fantastic for many things. It will freshen your breath and it also gives you something to think about. Perhaps you are trying to quite smoking, but to kick that habit to the curb you may need some gum to chew. I have also heard of people using gum between meals to help them stop snacking to lose weight or become more fit. So treat yourself with this awesome deal on PUR Gum. If you have ever researched PUR Gum then you would know that it is sweetened with Xylitol which is a natural sugar substitute. It is also poisonous for dogs so be very careful that your dog doesn't get any by accident.
WagJag Canada has even thrown in totally free shipping with this particular offer, which is fantastic. So if you're looking for gum that is sugar free and beneficial for your oral health, then quickly add this pack to your cart before the opportunity is gone.
If you check out our Bargainmoose forum, you will see that WagJag Canada happens to have a coupon code for 10% off select deals. Unfortunately that code could not be applied to this offer, but you can always try to apply it to a different deal if you prefer.
(Expiry: 22nd September 2015)