Mark's Canada: Save up to 50% Off During Their Boxing Week Blowout
16 December 2014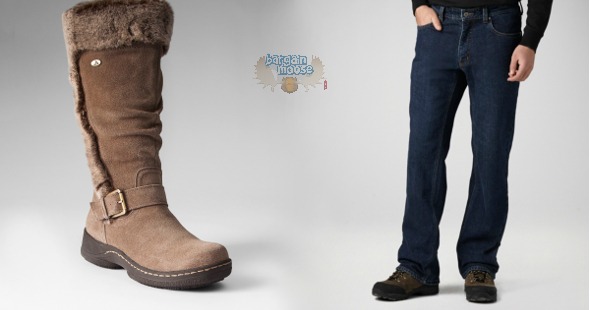 Mark's has started their boxing week blowout early. This means that us Canadians can get started early on the hottest discounts of the year. The Mark's Canada boxing week blowout sale will allow us to save up to 50% off select regular priced items.
There really is a wide selection of items available on sale at Mark's during this boxing week blowout promo. You can save up to 50% on lots of items like shoes, apparel and more for men and women.
Gentlemen, if you work outdoors during the winter time (or just want to keep warm), these Windriver T-Max Heat Lined Jeans might be just the thing for you. They were $89.99 but during this boxing week blowout you will find yourself paying only $44.99. If you prefer Cargo Pants, there is that option as well for $10 less.
The only thing my boyfriend asked for this Christmas was a pair of Timberland Boots. If I had not already purchased him a pair, I would definitely be interested in these Timberland Chocura Gor-Tex Mid Cut Hikers that were $150 and now $99.99. These boots look both durable and comfortable, and Timberland is pretty good at meeting both of those expectations.
Ladies, if you are looking for a warm and stylish boot then this might be your chance. All Women's Denver Hayes boots are 50% off which makes the Denver Hayes Bessy HD2 Suede Mid Cut Fleece Boots an excellent price. Why pay $130 for these boots when you can pay only $65 during the Mark's Canada boxing week blowout sale. If you prefer low cut boots, they also have this style in the Denver Hayes Bailey Suede Low Cut Fleece Boots for $59.99 but personally I prefer the mid cut style.
All of the men's Flat Back Rib Knits are also on sale for 30% off which makes for some great priced tops. I like the look of the Denver Hayes Long Sleeve V Neck Fooler - it gives the appearance that a white shirt is being worn underneath! This sweater was priced at $34.99 but not anymore. Now you will pay only $24.49.
If you love sporting active wear around the house and gym as much as I do, then you will love that Mark's also has all women's active wear on sale for buy one get one free right now. The items that qualify for this offer have "Buy 1 Get 1 Free" stated below the product image. I think the Denver Hayes Burnout Fleece Sweatshirt can be sported casually and is only $16.88. Add two of these to your cart and the second sweatshirt will be only $8.44.
Unfortunately you had to shop online by December 12th to ensure your delivery arrived in time for the holidays. Mark's Canada has a flat rate shipping charge of $6.50 plus all applicable taxes.
Here is the full flyer!
[gallery link="file" columns="2" ids="200118,200119,200120,200121,200122"]
(Expiry: 24th December 2014)