Updated: Apr 22, 2016
Little Burgundy Boxing Day Sale: 50% Off Sorel Boots & More!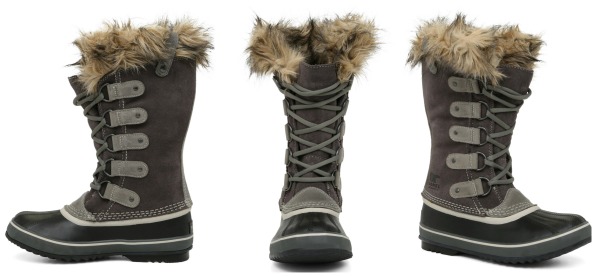 Little Burgundy Shoes Canada has had a great sale going on for quite some time now. They are offering 50% off the original price of all reduced merchandise. For Boxing Week, they have added new styles to the sale section and I am excited to tell you that even a new selection of Sorel boots has been added to the sale options. Plus, if you spend $90 you can get free shipping.
The new additions to the Little Burgundy Boxing Week sale include these Sorel Joan Of Artic Boots. They were originally $220 and are now down to $110. It's a great discount considering how popular Sorel boots are. This model is my favorite out of the whole Sorel winter line, year after year. At 50% off, it's about as low as these boots will go. There are many sizes still in stock, and the colors available are Black Suede, Forest Green and Grey.
I can't rave enough about the Joan Of Artic boots. It's no surprise that every year Sorel adds new boots to their winter line, but always releases the same Joan of Artic boots. They are super comfy and warm, and tough enough for our winters. I've had mine for 3 years now they are still in great condition. This style has not changed because it is always a bestseller. This is only one of many deals recently added in the reduced merchandise section at Little Burgundy Shoes online.
New to the sale are also these Sorel Qerran Boots. They seem just as heavy duty as the Joan of Artic Boots and have the same thick waterproof rubber duck shoe at the bottom of the boot. These are tall boots just like Joan of Artic boots, designed to keep the snow off your feet. I think a tall boot is the way to go for heavy duty snow boots. I love shorter styles but I always end up having my feet soaked with snow coming in the sides. Previously priced at $240, these boots are now $120 at 50% off.
That being said, if you do like short winter boots, these Sperry Shearwater Fur Boots are on sale at 50% off. They were $160 and are reduced to $80. If you like the duck shoe look, these boots are for you. The style is getting more and more popular and I have to say, I'm a fan. Lots of sizes are available and you can purchase them in the color brown or grey.
Shipping is free on items over $90. Otherwise, shipping is $5 for orders under the $90 minimum. We do have a free shipping coupon in our Bargainmoose forum, but it will only work on regular priced items.
(Expiry: Unknown)