GradImages Coupon Code: Boxing Day 20% Discount
26 December 2014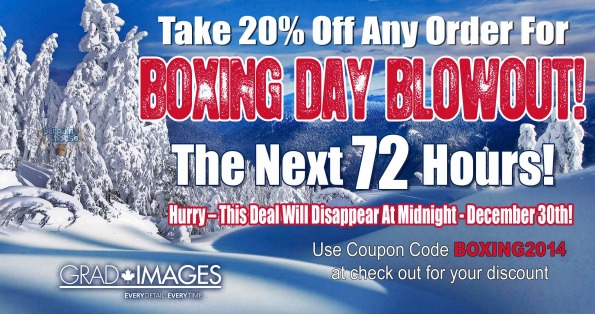 GradImages coupon codes are extremely hard to come by as I spent two hours looking for just one just a few weeks ago. Everything I found was a one-use only coupon or already long dead. Right now, GradImages is offering 20% off your graduation pictures with the following coupon code for Boxing Day.
Click here to find your grad's images @ GradImages now
Coupon Code: BOXING2014
Discount: 20% off
Expiry: 30th December 2014
So, what is this all about? Grad Images is hired by Universities and Colleges across the country to take official photos at graduation ceremonies. They do not send out these photos free (of course not), rather they would give the participant a customer number and they can pay for digital copies, printed copies, and more. You can also search for a participant by last name, university, and the year they have graduated. It appears that they keep photos for five years, so you can search for graduation pictures all the way back to 2009.
These official graduation pictures are very expensive. The Graduate Special Package retails for $43.95 and includes one 8x10" and four 5x7" of your chosen photo. To purchase all your photos in either print or digital medium will cost a lot. At least with this coupon code, the package comes down to $35.16.
I just graduated in November and Grad Images was present at my ceremony. They took three photos of me in total, but I must have the one where I am shaking the president's hand with my degree. I opted for the Classic Plaque as it has up to three lines of customized text with a classic commencement logo. This way, my photo will come already 'framed' and ready for display. Originally $44.95, the plaque came down to $35.98 after coupon. I am so glad I waited until now to purchase my graduation photo.
Grad Images is a Canadian company thus all prices are in CAD and they ship via Canada Post. For my order, I paid $6 shipping. I think that is reasonable, as the photo is Plaque is large and will be fragile. It will need good stiff packing.
Graduations are important events to remember and while the entire world is going digital and 'selfie' - I think it is nice to have a professional photo in hard copy of my accomplishment.