Carters OshKosh Canada Boxing Day Sale: 20% Off Everything Including Clearance!
26 December 2014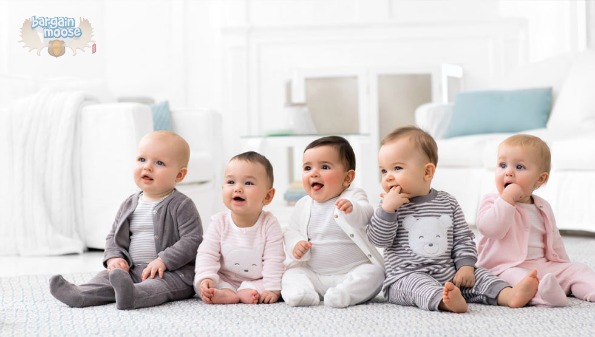 Carters OshKosh have some super hot deals today that you really don't want to miss. Shop for the rest of winter, the upcoming spring and even next year with their hot Boxing Day sale. First, there are many items already discounted. Second, once you add these items to your cart, they'll automatically discount by another 20%. Then, you can use our exclusive coupon code to get $10 off your $50 order!
As I've said before, I absolutely adore Carters Oshkosh and my kid's closets are full of their clothes. They got quite a few items from my mom for Christmas from Carters Oshkosh and my first reaction to a few of them were that the clothes were so soft. Even with such low prices, their clothes are really great quality with soft but durable fabrics.
If I had a baby girl, I would be adding this Carter's Mini Blues sparkly knit cardigan to my cart. It is a super sweet way to finish an outfit. Others think so too and it has a 4.9 star rating out of five. Regularly $16 and on sale for $9.99, add it to your cart to watch the price drop to $7.99.
For the baby boys, this Carter's 1-piece microfleece jumpsuit is not just cute, it is so practical. My boys used to wear fleece jumpsuits like this on those early spring days when we went for a walk with them in the stroller. I love the design as well, with the plaid polar bear on the front for the blue, but the best is the plaid moose in the grey! I think I would get one of each! Regularly $14, on sale for $9.99, it comes down to $7.99.
Carter's really does have the cutest and softest pyjamas and these Carter's Christmas 1-piece microfleece pjs are cute with penguins dressed in Santa hats for toddler boys. Regularly $11, and on sale for $7.99, you'll get these for $6.39.
These Carter's Santa slippers are super sweet for next year's present opening and were $12, on sale for $5.99, but you'll get them for $4.79.
For the bigger kids, why not pick up next year's winter coat for her at absolutely low prices. For example, this OshKosh B'gosh faux fur hooded coat was $40. It is on sale for $29.99, but once you add it to your cart, you'll get it for $23.99.
I could get all of the above for only $49.15 including shipping once I've added the $10 off coupon, which is almost too good to be true.
I think I'm going to pick up this Columbia Buga winter set for my youngest for next year. Regularly $175 and on sale for $129.99, once I add it to my cart it comes down to $103.99. If this is all I wanted to buy, I could get it for $93.99 once I added the coupon, which is a savings of over $80!
It looks like Carters OshKosh has taken away their free shipping on $50 and it is now a flat rate of $8. We do also have an exclusive coupon code for free shipping, but think about that it is worth $8 and the other is worth $10.
(Expiry: Unknown)