Updated: Apr 22, 2016
Cabela's Canada: Boxing Week Sale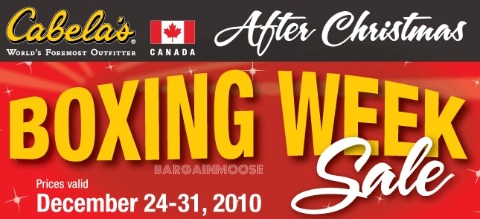 *** UPDATE - the 2012 deal is now over - but check out all the latest sale information on our Canadian Boxing Day sales dashboard!
Cabela's has released their Boxing Week e-flyer which has a several deals in it for the average outdoorsman/woman. Their Boxing Week Sale starts today, and you can get a good deal on a new shotgun, scouting camera, radios, camp chair or just some gear bags.
Another great thing is that the coupon that Anna mentioned HERE, for free handling (shipping) off an order of $99 or more, is still valid till the 31st of December, 2010. Use coupon code: HOLIDAY.
On December 28th there is an extra special promo: 40% off all North Face clothing and footwear.