Boxing Day 40% off Tea & Accessories @ Davids Tea
26 December 2014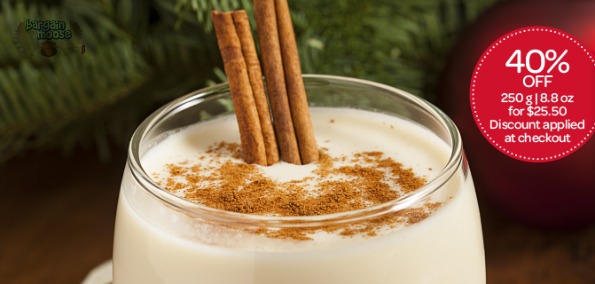 What is a cold winter's day without a spot of tea? Davids Tea just started their 40% off Boxing Day sale with loads of teas, tea sets, and accessories discounted. If you are a loose-leaf tea drinker, then this is a sale you will not want to miss.
My top pick from the sale is this three-tin boxed set of David's Winter Favourites. Originally $29.50, the tea comes down to $17.70. Three flavours in beautiful refillable tins are included in this kit:
Cocomint Cream (80 g / 2.8 oz)
Apple Custard (80 g / 2.8 oz)
Bubbie's Baklava (80 g / 2.8 oz)
In total, you receive 240g worth of tea. This is one of the best deals as your price per gram of tea is the lowest as you are buying in larger quantities.
I think the kits are the best way to go if you are an occasional tea drinker or want to buy something for a friend. In my opinion, the ideal kit to give yourself or others is The Perfect Tea Kit. Enjoy 124 grams in total of Coco Chai Rooibos, Cream of Earl Grey (Organic), and Forever Nuts. Coco Chai Rooibos is one of my favourite teas and Forever Nuts is my husband's favourite - they are both amazing teas. A perfect tea mug with fine mesh infuser and lid is included in this set. Originally $39.50, the Perfect Tea Kit comes down to $23.70.
If you want just a cup as you are swimming in tea already, then there are plenty to choose from. Candy Canes will sweeten your year and change colour when your tea is at the perfect temperature. Originally $14.50, this mug will only cost you $8.70 when you add it to your cart. It is one of the cheapest mugs you can purchase. The Candy Cane mug comes with a stainless steel infuser that is worth about what you are going to pay for the complete set.
You can also purchase loose-leaf tea at 40% off. Here are some of the flavours on sale:
Even some older teas in the sale section from around Thanksgiving are currently 60% off their retail price when you add them to your cart.
I need to remind myself not to buy tea like every month, and instead save up for deals like these. I really want that Winter Favourites kit as I am dying to try Bubbie's Baklava. Receive free shipping on orders of $50 or more.
(Expiry: Unknown)