Boxing Week Deals @ Chapters Indigo Canada now LIVE!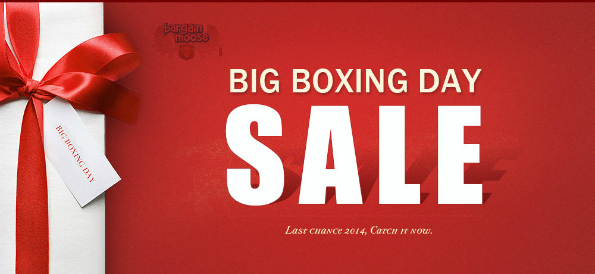 The Boxing Week deals supposedly start tomorrow at Chapters Indigo Canada online. However, most appear to be already active so click through and see what deals you can score already.
During Chapters' Boxing Week Sale, you can purchase the Kobo Aura for $40 off, bringing the eReader from $139.99 down to $99.99. You will also receive a free cover worth $30. When you consider these two deals together, you are saving $70 in total! This deal is already LIVE.
The Fitbit Flex is on sale for $79.95, originally $99.95. While this is a good deal and matches all the Black Friday deals on the FitBit we have seen. You are still better off to use the $40 off $99 coupon at Shop.ca and buy yours from there.
Do you want your kids to draw on something other than your kitchen table, pads of paper, and your living room walls? Get 50% off Boogie Boards during the Boxing Week sale. Originally $39.99, they are now on sale for $19.99.
There are many other interesting deals as well. This iHome iW3 AirPlay Wireless Speaker is 60% off, originally $199 the speaker system is now $79. There are many other speakers on sale as well for up to 60% off retail prices.
You can also expect up to:
50% off Toys and Baby
50% off Home
50% off Paper
50% off Home
50% off Style
I the toys section I found three sweet Lego deals. This LEGO Head ZipBin Toy Box and Playmat was $19.95 and is now $9.97. Similarly, the LEGO CITY ZipBin Toy Box and Playmat was $24.95 and is now $12.47. There is also the LEGO Ninjago Battle Case for $12.47 as well (originally $24.95). If you bought that huge block of 1600 Lego pieces earlier, you are going to need a big case to store them in.
Of course, the best time to shop for Holiday Cards and Gift Wrap is right after the holidays! Stock up on supplies for next year with up to 75% off retail prices.
All these deals already appear to be active now even though the banner says they start on December 25th. I would start shopping now so they do not sell out before your very eyes! I am guessing someone miscalculated when Christmas started by a day.
One thing I can say for Chapters Indigo is that their shipping is great. It has always been fast even though I live on one of Canada's big islands. Receive free shipping on all orders of $25 or more and enjoy Chapters Indigo's Boxing Week sales.
(Expiry: 4th January 2015)