Book Outlet Canada: Extra 50% Off 50 Stationary Items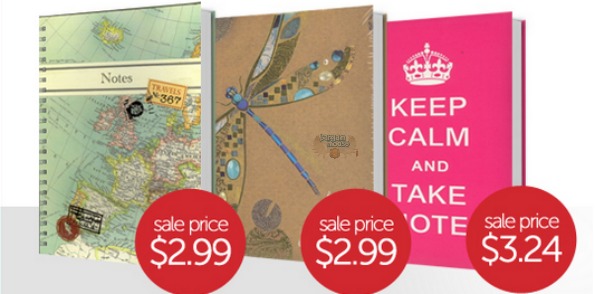 Book Outlet Canada has the perfect extra sale for planners and organizers. Get an extra 50% off fifty stationary themed items at Book Outlet Canada.
The sale includes photo-albums, journals, diaries, bookmark packs, memo cubes, scrapbook kits, and much more.
I am not much for journal-ling or keeping a diary but I am always making Shopping Plans. I am an avid shopper which is not to say I buy a lot (which at times I do) but it is to say I plan a lot and buy strategically. This book includes a tear-off pad and a pocket for filing filled-in cards, and is purported to be the "perfect accessory for the keen shopper." My ears are perked! Each card has space to write down the clothes, shoes, lingerie, and accessories you're looking for. Instead of keeping such lists in my head (or on Amazon wishlist) I would love to have this book. Originally the book retailed for $16.95, and it is now on sale for just $1.99.
I have never been into scrap-booking but so many people are and I am jealous of how nice it makes their albums look. This Little All-Star Scrapbook Memory Kit is the perfect accessory kit (200 pieces) to decorate up your child's memory books. Originally $24.95, it is now on sale for $4.99. While it says the kit is for little boys, I think the kit would be a great gift for anyone who is into sports whether that be little girls or even big boys.
Pay $3.99 base shipping and $0.75 for each book.
(Expiry: 17th March 2014)