Book Outlet Canada: 50% Off Gardening Books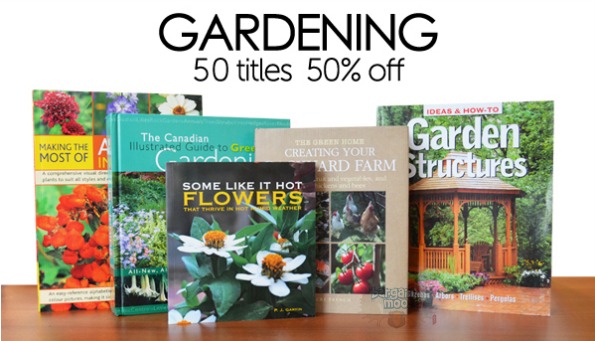 Book Outlet has a new 50/50 section on again with fifty titles at an additional 50% off the regular prices.  Right now, all the books are geared towards gardening.
Usually, this 50/50 sale has a selection of books on for two weeks, and then switches it up.  Last week they were on for just one week only, and this time they don't even mention when the sale will be over.  I suggest grabbing anything you see and like now, while you know you can save the additional 50% off.
We finally are starting to have the beautiful spring weather across Canada that we have all been waiting for.  Up until last week, we actually had snow here in Alberta!  I can't wait to do my spring gardening but I have an issue; I don't exactly have a green thumb!   I often refer to books to find out what and when you plant things and how to take care of them.
This book Container Gardening for Dummies Edition 2 caught my eye because of my lack of gardening skills.  It was originally listed at $19.99 and is now on sale for just $4.99.  It is because of gardeners like myself that they needed to make not just one of these, but a second edition as well!
If you do have a green thumb however, there is still a lot of variety in the books.  There are books on ponds, houseplants, garden structures, lawn watering systems and more.  Basically, this sale covers just about anything you would need to look up for something outside your home.
The cost of shipping is $3.99 and an additional $0.75 per item.
Additionally, use one of our exclusive Book Outlet coupon codes to save another $5 to $20 on your entire order.
(Expiry: Unknown)