Book Outlet Canada: 30% Off Boxing Day Sale (EXPIRED)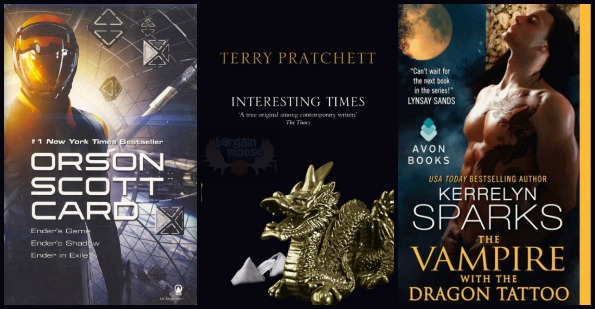 * Updated - sale extended until the 27th December 2014 *
My hubby placed his order the second this sale opened, so I know other bookworms will be interested. Receive an extra 30% off all books at Book Outlet Canada for Boxing Day.
Remember, if you signed up for the 50% off coupon (instead of the 30% off sale), make sure to use your coupon code today.
This sale is ripe with amazing book deals. While my partner was hunting down his favourite authors, we ran across this Orson Scott Card Boxed Set Trilogy with the following three books:
Ender's Game
Ender's Shadow
Ender in Exile
Originally $38.99, this box set usually retails for $16.49 at Book Outlet. However, right now it is on sale for $11.54. If you are willing to put up with a few cosmetic issues, the scratch & dent copy for only $8.11.
My own personal wish list was simple: I wanted nothing. Yet, I ended up getting two books. First, I could not resist adding Wintersmith by Terry Pratchett to my collection. Unfortunately, it just went out of stock. However, there are many other books by Terry Pratchett that you can pick up in this sale. I love the adult covers of Soul Music for $3.84 (a fantastic novel), Interesting Times for $5.38, and Maskerade for $6.15. They do not even look like you are reading good old-fashioned fantasy. Some of these books were not in stock just a few hours ago so stock is changing continuously.
If you are looking for a total chick-book that is 100% guilty pleasure and a 'hard read' then you need to pick up the very promising The Vampire with the Dragon Tattoo. I am not sure it promises great prose, but I do not think you read this kind of book for the quality or writing. Rather, you just want a deep and satisfying storyline with all the perks the summary promises. The book retails for $7.99, and is now $2.30 at Book Outlet.
For the kids, pick up Let's Pretend: Nativity Play Set for just $5.03. It retails for nearly three times that price regularly, so it is a nice deal for the kids. Just hide it away in your gift closet until next Christmas.
There are so many good deals on books with new books coming in all the time. This sale is for today only, so jump on it now Moosers so there will be no regrets later! I now have to make room for two more books on my shelf. I have no idea how my partner will ever fit the ones he ordered onto his bookshelf!
Shipping is $3.99 plus $0.75 per book.
(Expiry: 26th December 2014 27th December 2014)