15% Off (Reg. Priced Items) Weekends Are Back @ Chapters Indigo!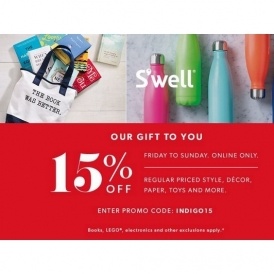 There is a special weekend only promotion on at Indigo again - 15% off Weekends are back - save 15% off select regular priced items with promo code SPRING15 until July 10! Some exceptions apply. (Lego is not included, for example, in this special offer.)
To check to see whether or not an item will qualify for the 15% off discount, I would enter the code into the cart before loading it up, then as you start placing items in your cart you will be able to see whether or not the item is applicable for the discount.
You will definitely need to get one of these tote bags that are on a promotional price of only $5.95 when you spend $30. (Reg. price on these tote bags is $16.) There are 3 different totes to choose from, but the one that states 'The Book was better" is spot on! There is a cute owl themed one for kids, which states, "Owl be reading."
It's so rare to see the S'Well water bottles going on sale, this is one sweet sale on them. This S'Well Birds Of Paradise Satin Water Bottle, 9 oz., is priced at $38.00. With your 15% discount, you are paying $32.30. S'well is a top of the line brand name for hydration bottles. They are made from stainless steel with a lightweight, double-walled design that keeps beverages hot or cold for hours. They are also non-leaching, non-toxic, and virtually unbreakable. The wide mouth on them is great for cleaning and adding ice to your water.
There is a wide variety of the S'Well water bottles to choose from, here.
Shipping is free when your order totals over $25, or you can select the in-store pickup option with no minimum purchase required, for free.
(Deal expiry: July 10 2016)