Bargainmoose Contest: Win 1 of 18 Copies of Turbotax 2013 Now! (CLOSED)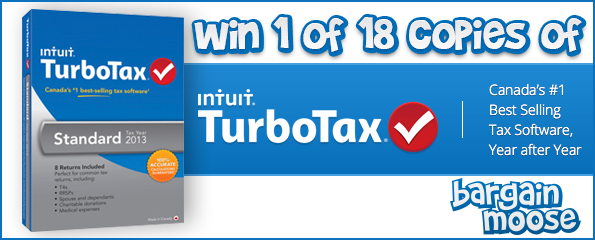 *** Contest now closed, winners have been emailed & received prizes! ***
Intuit TurboTax will be making the lives of 18 lucky BargainMoosers a lot easier this tax season, because they've given us 18 copies of TurboTax Standard 2013 (worth $17.99 each) to give away this week!
TurboTax Standard is made for regular individuals and families. The software will point out any deductions that you can make for your kids and help optimize your RRSP contributions, among other things. It's also interesting to point out that TurboTax guarantees that they will give you the biggest return or lowest amount to pay than any other "tax prep method" you'll use.  I've never tested out this statement but if you have, let us know how it went by leaving a comment! Of course when I say that, I mean leave an extra comment in addition to your answer to our magical contest entry question.
How to enter this Canadian Contest:
For a chance to win a copy of  TurboTax Standard, all you have to do to is tell us what you'll be spending your tax return money on if you get money back (and I'm hoping you will!)
"What will you be spending your tax return money on if you do get money back?"
In case you don't win this contest, keep in mind that TurboTax is offering a 15% discount off its online editions until the end of March. You'll find this offer on our TurboTax coupon codes page.
Rules:
Canadian entrants only
One type of entry per household
Ends 16th March 2014
Rules subject to change at admin's discretion