L.L. Bean Lunch Boxes 25% Off & Free Shipping!
24 April 2016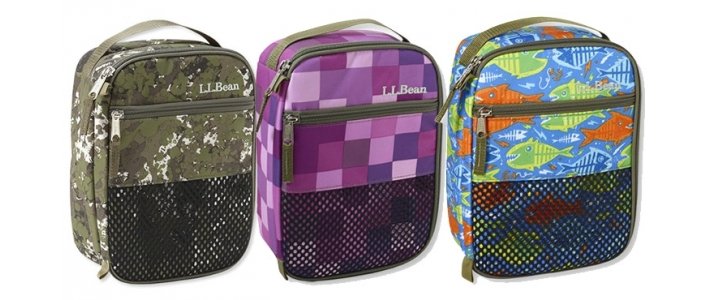 I don't know about you but it seems like every student in my daughter's school has the same lunch box that we bought at our local Costco last September. Plus after months of daily use, it's definitely looking a little worse for wear. I was having a look around for a replacement that she would like and found this one at L.L. Bean, in a large variety of colours and patterns that aren't too babyish for my big kid. To boot, they are on sale for just $14.99 USD!
Did you know that L.L. Bean provides free shipping to Canada with no minimum purchase required? (With the exception of select over-sized items, shipping will be displayed at checkout if it does not qualify for free shipping.) Besides that great feature, L.L. Bean is famous for its high quality standards and the durability of products that they sell.

This is a good time to jump on the 25% off deal. Although you purchase in USD funds, all customs, duty and brokerage fees are prepaid in advance by L.L. Bean directly but the best part is, those fees are built into the pricing that you see online. This means no surprise charges at your door!

Today's exchange rate would mean you would purchase this lunch box for approx. $19 in Canadian funds, a good value for a lunch box that will hold up well. I now use an older purple lunch box (same style as these ones) that we purchased from L.L. Bean to store cosmetics. It is a great storage bag for almost anything. We use it to store medication too, when on holidays.
One thing I find helpful when purchasing an item using USD funding through a credit card is to use a credit card that does not charge an additional bank service fee for the service. Most banks charge a 2.5% foreign currency transaction fee (on top of the USD exchange rate.) One credit card that offers no foreign currency service charge is the Amazon.ca Rewards Visa Card from Chase.
(Expiry: Unknown)
More Back to school