Half-Off Munchkin Fresh Food Feeders x 2 - now $6 @ Amazon.ca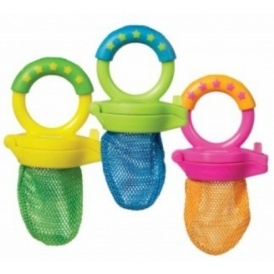 Baby wants to eat everything you do. Bananas, Strawberries, and the likes. But you are probably concerned about choking - right!? Worry no more. Check out these Munchkin Fresh Food Feeders. You can put fruit (frozen or not) inside the little mesh bag and your little one can chew on it and suck on it, without any choking risks. This pack of two would normally be $12.99 ($11.99+ at other retailers), but today it is on sale for $5.97.
This is a great way to get some healthy foods into your little one, or even soothe some teething pain. Grab these two feeders (colours may vary) and start stuffing them with the good stuff. When my son was young, I would put banana inside and then stick them in the freezer. Banana (picture saying that in a Minion voice) was easy for him to mash and mow on, but didn't get super hard when frozen.
Amazon Prime members will enjoy free shipping on this purchase. Otherwise you will need to spend $25 or more to have shipping and handling included from Amazon.ca. This item is shipped and sold by Amazon Canada themselves.