A Must-Have for Travel with Baby: Mint Marshmallow Travel Seat $30 Shipped @ Best Buy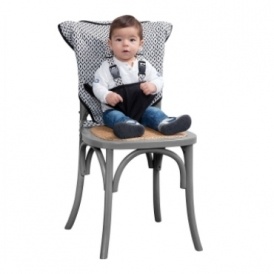 If you ever travel with a small child or frequent restaurants or even the mall food court, you need the Mint Marshmallow Travel Seat. It will make your life so much easier--I promise--and it's on sale right now at Best Buy. Regularly $39.99, snag it for only $29.99. But anything that makes outings with a little one easier is nearly priceless, right?
I was gifted one of these when our son was smaller and I don't know how I could have lived without it. The Mint Marshmallow Travel Set turns nearly any chair into a cozy, comfortable, safe seat for your baby. It's designed for babies six months and up and we still use it now.
It has a secure 5-point harness just like a car seat or high chair and it's made of lightweight, durable cotton. It folds down for easy portability and storage (it fits neatly into a diaper bag!); it transforms into a neat little packable pouch. It's available in a dark grey pattern (Best Buy also has it in black or blue but those colours don't seem to be on sale.)
This great little travel seat sells for $39.99 everywhere in Canada that I could find it so saving $10 is a fabulous deal. And, as I said, if it makes your life that much easier, I'm sure you'd even pay full price!
As it's over $25, Best Buy will even ship it to your door free of charge.