How To Order Eye Glasses Online + 20% Off @ Zenni Optical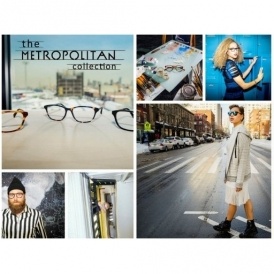 I know many people including myself who have purchased eye glasses from Zenni Optical, and we all love them.
The price you pay on a pair of glasses from Zenni Optical will literally be a fraction of the price of glasses that you would order from your Optometrist or at a retail store.
Zenni Optical is having a sale of 20% off of glasses that are $12.95 and up. You must use promo code JULY4 at check out in order to receive this promotion.
One important thing you will want to know before you order your glasses online is what your pupillary distance (PD) is. That's the distance between the middle of one pupil to the distance to the middle of the other pupil.
Typically this is not given to you at an eye appointment and I have found that many optometrists will charge a high fee if you want to get that reading. If you purchase eye wear from the Optometrist's office, they will usually get your PD for you for 'free' (sometimes kept discreetly from you.) Ultimately, the higher price that you pay in glasses from them defeats any advantage you had over not paying that additional PD fee.
You can also measure PD yourself (very hard to do though if you can't see without your glasses!) You can get someone to try to manually measure your pupillary distance, and it is usually quite accurate.
Zenni Optical has a handy guide right here for you to follow, so that you can measure your pupillary distance!
Now, moving on to the glasses. The website is easy to navigate, you will be able to find the right pair with the refined searches that you can set up. I would start here at the women's best seller glasses section and refine the price of the frames, (I selected from $13 to $18 in this link here, but you can definitely bump the slider up to a higher range of frames.) The frames may be inexpensive, but don't let that fool you, they are great.
As an example on this $15.95 frame, as shown in the picture below, I am first presented with a list of choices for the lenses: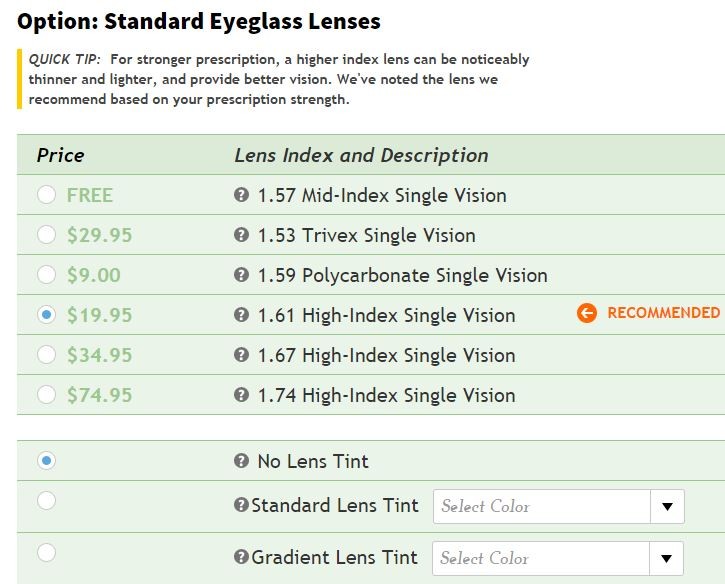 I'm going to go with the recommendation. I am next presented with this: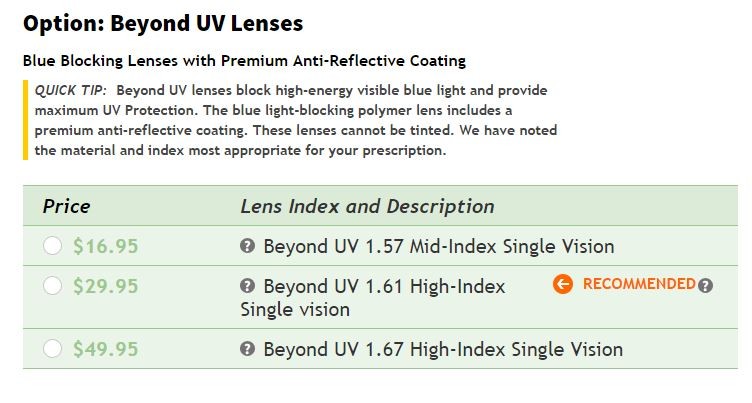 To me, it is important to have the anti-reflective coating, but also the blue light-blocking feature. Remember how iPhones now have that fantastic feature 'nightshift' to tone things down for you at bed time? These glasses can help with computer and electronics screen lights, etc. - you may find you feel more sleepy at night when you are not directly exposed to as much blue light from screens such as that. So in this case I will try the recommendation as well.
Now a new option is presented but there is no recommendation mentioned here.
Option: Polarized (reduces glare) or Photochromic (light-adjusting) Lenses.
In fact it looks as though most options for the above features, ranging in price from $19 - $169 are not even applicable to my glasses. There is a 1.61 high-index single vision option for $139 - this is a pass for me.
Now I am shown I have an additional $12 fee for having a wonky prescription. That's ok, that can happen and it's not very much.
Here I am given an option to purchase clip-ons that should fit, and they are very inexpensive, only $3.95. I will bite on those. I can wear them when driving, even if I end up looking silly, it's ok, it won't be the last time I look silly, I'm sure.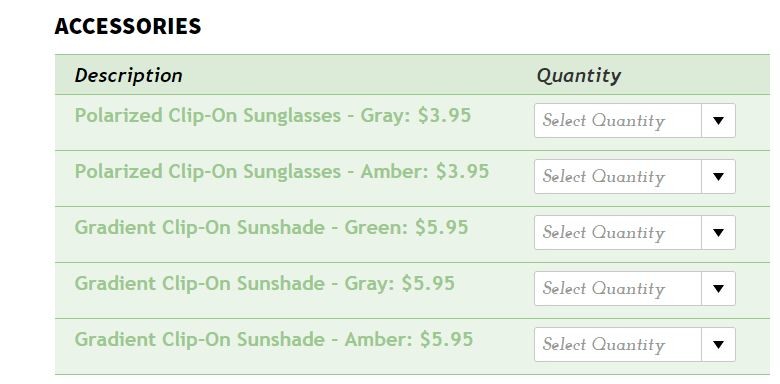 Did you know you can custom engrave the arms of your glasses, both inside and outside? For the inside, it seems reasonable to have a contact number on them in case you lose them. What would you engrave on the outside arm if you did add that feature for only $1.95? I really am curious as to what people would write on the arms of their glasses. I am envisioning unique and/or strange quotes and words of wisdom.

Despite my adding on some extras, it should be noted that all glasses include:
•

FREE

Anti-Scratch Coating
•

FREE

UV Protection
•

FREE

Hard Case & Cleaning Cloth
•

SHIPPING

: Pay shipping on the first item only. Additional items in the same order ship FREE.
With the coupon code JULY4, the price of the glasses in my cart went from $57.90, down to $46.32.
NOTE: ALL PRICES ARE LISTED AND CHARGED IN USD CURRENCY.
There is a note showing the following during checkout: WARNING:Due to a Canada Post labor dispute, Canadian customers may experience temporary shipping delays; standard shipping to PO boxes and rural addresses as well as express shipping will not be available.
Shipping shows up as $9.95 for me, so it is a grand total of $56.27 USD for one pair of glasses from Zenni Optical. This is around $72.67 CAD. Usually you can't even purchase frames for this low of a price at retailers.
If I hadn't selected the recommendation of the additional 'beyond UV lens' $29.95 option, it would have been considerably less. As well, I was charged $12 for having an 'odd' prescription. So a person could be looking at some really inexpensive glasses from Zenni if they have better eyes than mine and/or make different choices during the designing of their eye glasses!

The idea in this guide is that you now know how to walk yourself right through purchasing a fantastic pair of glasses from Zenni Optical, and on sale for 20% off!
(Deal expiry: July 4th, 2016)