Etekcity Aroma Hybrid Essential Oil Diffuser Now $36 & Free Shipping (Was $170) @ Amazon.ca!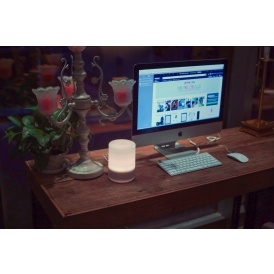 Everyone has been talking about essential oils and how they can benefit us. If you have been wanting to try an essential oil diffuser, then you know how expensive they can be. Now is your chance to get one for just a fraction of the usual cost! Get your hands on the Etekcity Aroma Hybrid Essential Oil Diffuser at Amazon.ca. It is currently on sale for 79% off - which has you paying just $35.99. Shipping is even included!
The Etekcity Aroma Hybrid Essential Oil Diffuser is available in a 300ml size in white. It is sold by Etekcity Corp but the purchase will be fulfilled by Amazon themselves. This essential oil diffuser will give you the ultimate relaxation with aroma diffusion.You can add your essential oil into 300ml of water in this diffuser, and then sit back and enjoy.
The light can even change into 7 different colours with two different brightness options and a colour cycle mode. So not only is this a great way to get your fix of aromatherapy, but it will also look pretty neat on your counter.
The mist timer has four different automated timer intervals, so you can leave it misting throughout the day at a setting of your choice. You can have it misting every 60 minutes, 180 minutes, 360 minutes etc. Since this is a hybrid, if you don't have any essential oil then you can simply use the machine as a cooling water humidifier. Nifty, right?
Amazon.ca throws in free shipping on orders over $25, so you won't have to worry about an extra fees and such in that regards.
Moosers, have you been using essential oils?

(Expiry: Unknown)