Where to Buy the LEGO Creative Box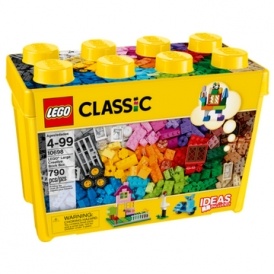 People are always asking us where they can buy their very own LEGO Creative Box in Canada, so we've made a list of the best places to find it on sale.
We'll warn you though: these tend to go out of stock fast, so get them quick! We've included LEGO Classic XXL 10697 (1500 pieces), "Classic" 10704 (900 pieces), Large 10698 (790 pieces), and Medium 10696 (484 pieces) on this list:
LEGO Classic XXL - 1500 Pieces



LEGO Classic Large - 900 Pieces



LEGO Classic Large - 790 Pieces


Lego Classic Medium - 484 Pieces
The LEGO Classic Large Creative Brick Box has instructions to make quite a variety of things - or pair it up with the kids' existing LEGO collection to make a virtually endless amount of trucks, animals, buildings and more. These are big hits for gift-giving, so even if you snag one of these on-sale without a specific occasion in mind, it'll come in handy for the next one! Seriously.
This LEGO Classic Large Creative Brick Box is best suited for kids from 4 through 99, and the variety is going to depend on the size you go with. You can build anything you set your mind too – oh and the kids can too. Get creative or follow some of the ideas in the included design booklet.