Plush Bouquets on Sale from $16.22 @ ThinkGeek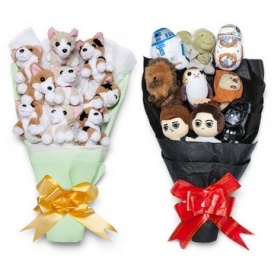 Looking for a Valentine's Day gift that's a little out of the ordinary? ThinkGeek Canada just marked their famous plush bouquets WAY down, and you can get one on sale from $16.22!
Each bouquet is made up of stuffed animals and little plush toys perfect for any geeky Valentine! Every little figure is attached to a "stem" that you can detach.
One thing's for sure – these will definitely outlast any flowers!
My absolute favourite is the brand-new Plush Corgi Bouquet (for about $37.46 CAD). I mean just look at how cute it is! There's even a new-and-improved Plush Unicorn Bouquet 2.0, too!
Here are a few more of my top picks:
And if you want an alternative to a box of chocolates, look no further than the Giant Microbes Heart Warming Box, on sale for $18.72 CAD from $37.46 CAD!
All ThinkGeek products are listed in USD on their site, so you'll see different prices there.
It's too late to score standard shipping before Valentine's Day, but expedited and express shipping options are available for additional fees.