Jacob Canada: Up To 50% Off Signature Scent Perfumes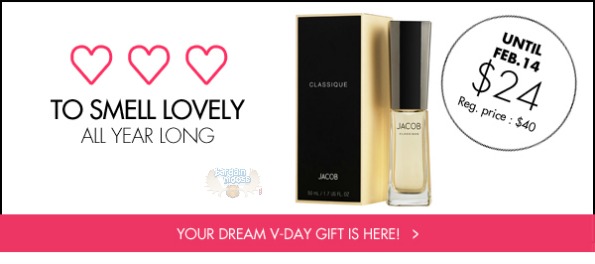 Jacob Canada has their signature scent perfumes on sale for up to 50% off the regular price.  The prices online already reflect the discount.
The Jacob Classique Perfume is the most expensive in this sale as it was $40 and is now only $24.  This is the regular size of 50ml and the scent is a sparkle of pink pepper, a touch of citrus combined with a delicate bouquet of peony petals and wisteria blossoms.  You can also get the pocket size of Classique Perfume that was $15 and is now only $9.
There is also this Jacob Joie De Vivre Perfume 50ml that was $40 and is now only $20.  This scent is a mix of passion fruit, pineapple, iridescent pedals of white freesia and sensual wood and musk.  The pocket size of Joie De Vivre is also available and was $15, marked down to $9.
Finally there is the Jacob Very Chic Perfume 50ml that was $40 and is now $20.  This would probably be my choice as the scent is tangerine, exotic mango, tempting blossoms, deep amethyst plum, intense vanilla, black amber and sensual woods.  Again, the pocket size of Very Chic is also available, and was $15, now on sale for $9.
A perfume that goes with your body chemistry is difficult to find, and I have to admit that I have not tried any of these Jacob scents, however I would like to try the Very Chic scent.
Be sure to visit our Jacob Canada coupon page for a promo code giving you $20 off $100 purchase with your email signup.
Shipping: Free on orders of $100+
(Expiry: 14th February 2013)