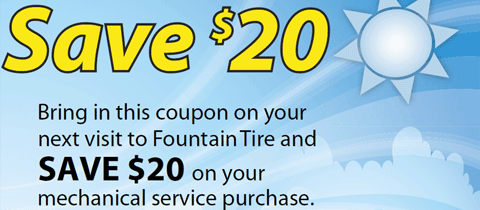 Here's a free printable coupon which you can use at Fountain Tire Canada!
The printable coupon gets you a $20 discount if you book a mechanical service.
Terms:
Offer valid until August 9, 2010 at participating Fountain Tire retailers. No cash surrender value. No change will be provided. One coupon per transaction. Not for payment on account. Cannot be combined with any other offer.
I suppose it would be handy if you are checking your car in for some maintenance...I will probably not write any more about this though, as I know nothing about cars! I can barely check the oil on my car...!
(Ends 9th August 2010)