Air Canada Promo Code – 15% Discount To Romantic Locations!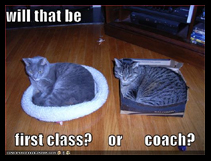 Deal details for this AirCanada.com promotional offer:
Where

: Online @ Air Canada

What

: 15% discount on select locations

Promotion Code

:

66J8DJR1
Expires: 16th February 2009
Some of the small print:
"Get 15% off select fares to 3 great romantic destinations plus stay 3 nights and get an extra hotel night free in Paris, New York or Buenos Aires. New York: 15% off Tango Plus fares. Paris and Buenos Aires: 15% off Leisure fares. FREE hotel night stay: book 3 consecutive nights in Paris, New York or Buenos Aires and get an extra hotel night for free (value of up to $200 USD at participating hotels). Offer ends February 16, 2009 for travel until March 27th, 2009."
Out of those 3 destinations, I'd love to try Buenos Aires.
I've already been to Paris and I love it! I spent 4 days there a few years back. My favourite part was the food! I am just a foodaholic, which might explain why I have to buy some of my clothes from Pennington's. Ahhh the wonders of French Onion Soup, or L'Escargots!
I did the ultimate clichéd thing tourist act while eating the snails in a restaurant. You know the pincer like tool for eating snails? Well, I reached for my first snail and shot the whole thing across the restaurant at lightning speed, to land under the feet of some other diners. What a waste of a good snail! I was pretty embarrassed and I think my cheeks were redder than the tablecloth.
I also loved how quite a few of the little bars and eateries had Backgammon boards to borrow – you could call in for a glass of wine in the afternoon, and enjoy a few relaxing games of backgammon. Doubles FTW!
The Eiffel Tower was pretty spectacular though. I did enjoy the visit there. Whenever the light show came on at dusk, that has really been etched into my memory. And somehow the digital camera photos just don't do it justice.
Just a point to note – I actually booked my hotel using the "name-your-own-price" feature on priceline canada.