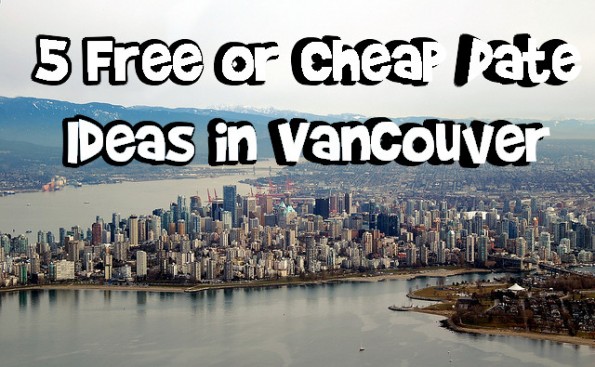 It is without a doubt that Vancouver is an expensive place to live in.  Trying to date in Vancouver is another expensive venture, especially since everyone is house/condo poor and can't afford to go on expensive dates on a weekly basis.  Even though you can eat reasonably well for under $30 for two people on a regular basis, there is more to dating than eating and coffee (though some people may beg to differ of course!).
Here are some fun date ideas in Vancouver that are free or almost free- of course these "date ideas" are great ideas for free things to do if you are visiting Vancouver too!  These ideas take you from Vancouver proper, to an island off of Vancouver, to Richmond, and to North Vancouver.
One of the great things about Vancouver is its walkability, and these ideas certainly take advantage of that!
Take a Stroll Anywhere
Well, more specifically, take a stroll at Lighthouse Park in Vancouver (you can check out this review from Vancouver Trails for more information), where you see a beautiful view of Vancouver, or take a walk around Stanley Park which takes about 2-3 hours to walk the 10km of beautiful scenery, or even walk up to the top of Queen Elizabeth Park, where you have another beautiful view of Vancouver.
The list could go on... window shopping on Main street or Robson street... you get the idea! :)
Walk on a Ferry and go to Bowen Island
Another fun activity to do is to hop onto a ferry and go to Bowen Island.  It is only a 20 minute ferry ride and can be accessed from Horseshoe Bay (through BC Ferries) or even Granville Island or English Bay (it costs $35 return to hop on the water taxi from English Bay, which avoids having to use a car to drive to Horseshoe Bay).  I recently went to Bowen Island after so many years.  From the ferry terminal, you can walk to the shops along the main street, or even head over on a hike around Killarney Lake, a beautiful circumferential lake hike that takes about 3-4 hours.  From Bowen Island, you can see West Vancouver and the buildings that mark University of British Columbia.
Go to Steveston for a Picnic
Steveston is quite a drive from Vancouver, but it is well worth it.  It is often labeled as the "Kitsilano" of Richmond (beach-y area where all the young, hip people like to live).  Steveston is a small fishing village (source: Tourism Richmond).  You can have ice cream here, grab some fish and chips at the famous Pajo's Fish and Chips, or just walk around and admire the sights. The nearby park, Garry Point, has a great area for picnics or just sitting on the beach.
Snowshoe at Seymour Park
If you already have showshoes, this date idea will cost you nothing but if you don't have showshoes, you will have to go to Mountain Equipment Co-Op or Cheapskates to rent them, which will set you back about $10 per pair.  Going to Seymour Mountain at night or even during the day is a great idea because normally snowshoe passes cost about $40 at Cypress Mountain or Seymour Mountain.  There is an area on Seymour that is part of the provincial park and hence, it is free.  Just remember to bring a headlamp and a flask of hot chocolate (or maybe even hot chocolate with Bailey's if you are inclined) if you are heading there at night.
Sign up for Notifications on Events
Van City Buzz (they have a Facebook page and Twitter account too, if you're into social media) has regular posts on the "what's what" of Vancouver.  They post fun things to do around Vancouver such as free ice skating at Robson square, New Year's Eve at the Jack Poole plaza, or other fun and free events around town.  They also post fee- events as well, so if you're inclined to spend money on things to do then this might not be the best website to subscribe to!  They also post the latest news in Vancouver as well so you can keep up to date with current events.
Bargainmoosers, have you seen any of these things in Vancouver?  Do you have any other fun and free things you like to do in Vancouver?
Photo credit: abaransk