What's New on Netflix Canada for October 2018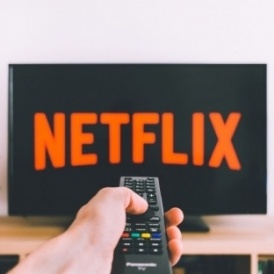 The start of a new month is always a pretty exciting time at my house – because that's when Netflix announces everything they're adding over the next few weeks.
And to help pass that info along (and to let you plan your nights of binge-watching accordingly), we put together this guide to what's new on Netflix Canada.
Before you can start, however, you need to make sure you have a Netflix account. If you're new to all this, you can sign up for Netflix and enjoy a free one-month trial. And if you already have an account, just sign in!
With Halloween just around the corner, many of this month's new releases are pretty frightening and not for the faint of heart. However, there are a few kids' Halloween movies in the mix, including Alvin and the Chipmunks Meet Frankenstein and Casper – so you can still schedule a family movie night.
---
October 1

Anger Management
See No Evil, Hear No Evil
The Purge: Election Year
Warcraft
October 2
Joe Rogan: Strange Times
MeatEater: Season 7
October 3
Alvin and the Chipmunks Meet Frankenstein
Casper
Dawn of the Dead
Dune
Mr. Bean's Holiday
Operation Finale
Spy Game
October 4
Star: Season 3
Violet Evergarden: Special: Extra Episode
October 5
Big Mouth: Season 2
Dancing Queen
Élite
Empire Games
Little Things: Season 2
Malevolent
Private Life
Super Monsters Save Halloween
Super Monsters: Season 2
The Rise of Phoenixes
YG Future Strategy Office
October 6
October 8
October 9
Inferno
Supergirl: Season 3
Terrace House: Opening New Doors: Part 4
October 10
October 11
Riverdale: Season 3
Salt Fat Acid Heat
October 12
Apostle
Errementari: The Blacksmith and the Devil
Feminists: What Were They Thinking?
FightWorld
ReMastered: Who Shot the Sheriff
Tarzan and Jane: Season 2
The Boss Baby: Back in Business: Season 2
The Curious Creations of Christine McConnell
The Haunting of Hill House
The Kindergarten Teacher
October 13
October 14

A Taiwanese Tale of Two Cities
October 15
Octonauts: Seasons 2-4
The Seven Deadly Sins: Revival of The Commandments
October 16
Black Lightning: Season 2
Ron White: If You Quit Listening, I'll Shut Up
Travelers: Season 2
October 19
Accidentally in Love
Ask the Doctor
Best.Worst.Weekend.Ever
Derren Brown: Sacrifice
Distrito salvaje
Gnome Alone
Haunted
Hip-Hop Evolution: Season 2
Illang: The Wolf Brigade
Larva Island
Making a Murderer: Part 2
Marvel's Daredevil: Season 3
The Night Comes For Us
Wanderlust
October 20
[REC]
Halloween
Scary Movie
Scary Movie 2
Scary Movie 3
Scary Movie 4
Scary Movie 5
Scream
Scream 2
Scream 3
Sinister
The Cabin in the Woods
October 21
October 22
October 23
October 24
October 25
Great News: Season 2
Hell or High Water
October 26
Been So Long
Castlevania: Season 2
Chilling Adventures of Sabrina
Dovlatov
Jefe
Shirkers
Terrorism Close Calls
October 27
If you like this, you may like these...