(Xbox 360) Dead Island: Riptide Rigor Mortis Edition $20 Final Clearance @ Best Buy Canada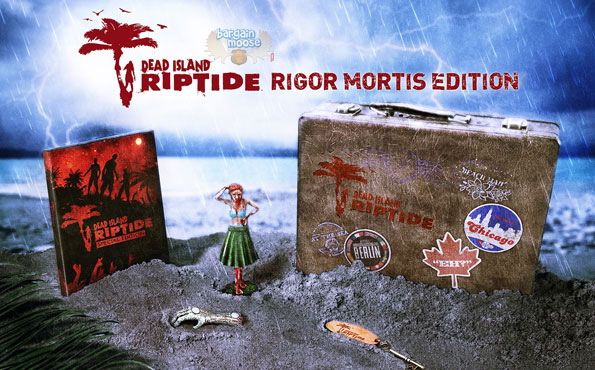 Just this morning Ivan blogged about a $0.97 deal on Grand Theft Auto trilogy for Mac at Best Buy but I have found another deal worthy of your attention. While supplies last undoubtedly, you can pick up Dead Island: Riptide Rigor Mortis edition for Xbox 360 for just $19.97. It's on final clearance, so once it's gone, you won't be able to take advantage of this low price anymore!
I have to admit that this is the first I have ever heard of this popular game but for those of you in the dark about it as well, it's essentially an RPG game that features an open world infested with zombies. Unlike the initial edition of this game, this one features a first-person perspective, extra game play mechanics along with new characters, vehicles and much more. For just $20, it's definitely well worth the price, especially since the game comes in a travel suitcase packaging as well as the following collectibles:
Zombie hula girl bobble figurine
Severed hand bottle opener/ fridge magnet
Bungalow key with wooden tag
Box art & digital strategy map
Although there are no reviews for it on Best Buy's site, I did find the following 5 stars out of 5 stars review at Future Shop, where you can also get it for the same price right now:
This is a very good game... Great graphics, audio performance (Especially for the Xbox), and story.They put a lot of work into this game with the culture of the Island, audio unlike many others As for the collectibles- If you are a Dead Island fan or know you'll love this game and have the spare money... Go for it, the items are very detailed and I found them a lot better than other collector's edition's items (Like Black Ops, Black Ops 2, etc.)
On Amazon, this same edition of the game is actually double the price at $39.09 and even then it's on sale from a regular price of $79.99. It also has over 20 reviews with a general consensus of close to 5 stars out of 5! I also found this game for $79.99 at the Microsoft Store.
Shipping is only free on orders over $25, so you can either pay $1.99 for shipping or better yet, grab a filler item like a $5 DVD. In fact, I found a slew of great titles at just $4.99 like Jerry Maguire, 50 First Dates (special edition), Blind Side, Inception, and countless others. You could even pre-order a special version of Godzilla on sale for just $18.99 as it comes with a bonus disc.
(Expiry: Unknown)