Well.ca: 80% Off SwimWays Noodle Head Shooter - Now $3.50 (+ Extra 10% Off ALL Clearance Items!)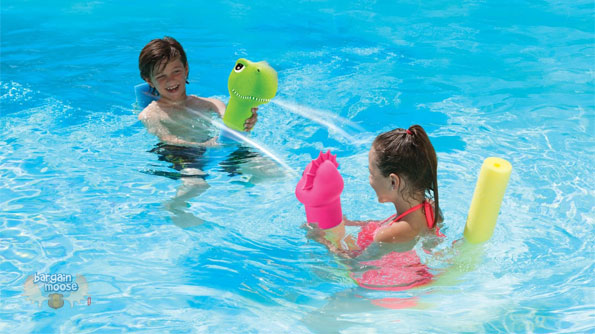 Ready, set, play! Well.ca has the Swimways noodle head shooter on sale for just $3.50, which is an 80% reduction from its original price of $16.98. Plus, you can use the Well.ca coupon code: NOBOSS10 to save an additional 10% off and get it for just $3.15!
To be clear, these are noodle heads. Although I originally thought that you had to insert your hand into them in order to make them work, in fact, one needs to be attached to a pool noodle. If you have a pool, then chances are you already have these, but if not, then you can pick some up in-stores at Walmart.
Surprisingly, these heads can shoot up to 10ft (3m) of water and are a sure fit with the SwimWays Super Swim Noodle, but work with most fat noodles as well. They're also recommended to kids ages five years and up, though I'm positive that even adults could get a kick out of them! ;)
The only downside is that there is no telling as to which noodle head shooter you might get. The picture on Well.ca's website features three noodle head shooters: an orange blowfish, a green dinosaur and a pink fish, but doesn't give the option to pick among these. In any case, they're all pretty awesome looking, though here's to hoping that you get the green dinosaur! On Amazon.ca, the dinosaur head shooter is $4.50, but shipping is only free on orders over $25.
I also spotted another great deal on a pool toy: the SwimWays bubble ring blaster. Originally priced at $31.98, it's already down to $15 and comes further down to $13.50. It requires no batteries and is activated by squeezing the handles while swimming under water. This toy would definitely be the perfect accessory to a couple of underwater photo shoots, which even adults can partake in.
Shipping is free on orders over $25 but luckily, the Well.ca code above may be used on all clearance items for the next couple of days to save an additional 10%. I also found the Crayola Explosion game book on sale for just $3.50 (reg. $9.96). Just like the noodle head shooter, it comes further down to just $3.15, but keep in mind that reviews for it aren't that great. However, for that price, it could nevertheless make a good filler item to get to the $25 free shipping minimum.
(Expiry: 10th August 2014)