Walmart: Fisher-Price Play-along Keyboard & Drums Was $50 | Now $27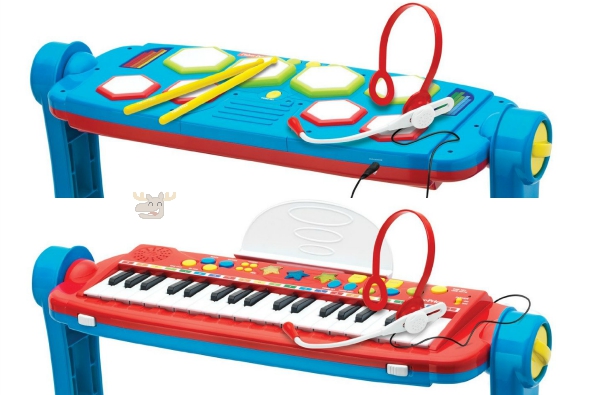 Since before I knew what batteries were, I have been captivated by battery operated toys. Specifically, I loved toys that made sounds and had flashing lights. In my head, I was a little composer just waiting to get out. If your child loves to make music, then purchase this Fisher-Price Play-along Keyboard and Drums set for their enjoyment. Original $49.97, the set is now on sale for $27. Get your new toy shipped to your local Canada Post outlet for free (or a Grab & Go location).
This music set resells for stupid prices on Amazon Canada ($100+) but I understood why when I found the kit for full price at Sears Canada. While the kit is out of stock at Sears Canada, it retailed for $69.99 when it was in stock. That is $20 more than Walmart's 'before' price, which makes me think their first price is already a discounted price.
This set includes a 37-key keyboard that then rotates (flips over) to reveal a drum set with eight different drum pads for different sounds. Your child can create their own music on the piano with the record function and then later play along with themselves or with other records. I am not sure if they can record on the drum side. Besides recording, they have a play/stop button and a button that increased and decreases the tempo.
Drumsticks are included, as is a headset so they can listen to their own music without flooding the house and annoying their parents.
The set has plenty of flashing lights to keep your child entertained. While this set is designed for children ages three or more, many parents think that the set is better for slightly older children. The piano and drum set does use four AA batteries, which are not included. One reviewer said:
the piano side is the side we have it on most the time he absolutely loves it. you can also control the volume from super quite to loud which is awesome for days you cant stand loud noise ;) it very easy to switch from the drum side to the piano side well worth the sale price $27 BARGAIN I think I will buy another for my nephew
This review was just left a few days ago, and they seem to love the sale price for this unit. Given the price for the keyboard / drum kit anywhere else and the resale value at places like the Amazon marketplace, I think this is a great deal.
(Expiry: Unknown)