Up To 72% Off Mega Bloks, Barbie & More @ Amazon.ca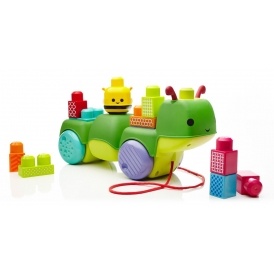 Easter is almost here. Does your Easter Bunny leave a few little toys for the kiddos? If so, then Peter Rabbit my want to check out this sale at Amazon.ca. For a limited time, you can get up to 72% off Mega Bloks, Barbie and More. The sale says you will get up to half price off the costs, but I found toys with even greater discounts. Amazon Prime members will enjoy free shipping, otherwise you need to spend $25 or more to have your shipping and handling charges included.
The first toy that I noticed happened to be this cute Mega Bloks First Builders Move 'N Groove Discoveries Caterpillar Building Set. This set was originally $29.99 and is now on sale for $10. I bet my son would have had lots of fun with this happy little critter when he was a bit younger. This set is compatible with all First Builders sets and is perfect for those little hands. Another highly discounted Mega Bloks First Builder toy is this Mega Bloks First Builders Zippy Zach which is now available for $3.70 (72% off). This is an add-on item though, so stack this item in your cart after you have $25 in there already.
How about the Big Pictures Apples to Apples Game? This game is seriously popular in my family, and at 52% off I just can't resist. Score this game for $11.99 while you can. It would make a great gift if you already have this game yourself. This particular version is suitable for kids aged 7 and up.
If you're looking for a Barbie toy, then I have just the one. Barbie Splish Splash Pup Playset is sure to have your little ones looking forward to the summer weather. This doll was originally $24.99 and is now $16.99. Included are the Barbie doll, a dog, and a doggy pool as well as accessories for the team.
I could go on and on about the deals available right now folks, but I definitely suggest you have a look and see what kind of deals you can score. Please let us know what you get in the comments below. As I mentioned before, Amazon.ca requires you to spend $25 or more to get free shipping. If you are an Amazon Prime member, it looks like you will enjoy free shipping either way.
Moosers, what toys did you score today?

(Expiry: Unknown)