(Up To 50% Off) 3 Sprouts Storage @ Amazon.ca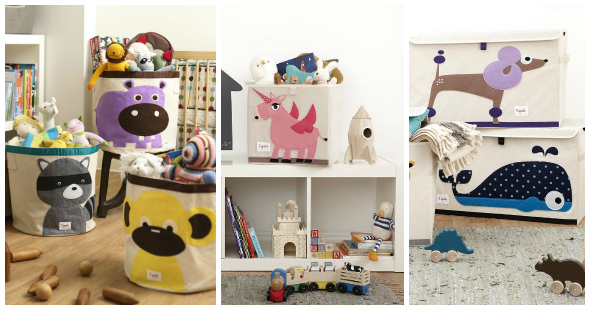 If you're not familiar with 3 Sprouts, it's a Canadian company started by three friends with design backgrounds who share a love of babies. Their storage solutions are made of easy-clean cotton canvas or polyester and are surprisingly sturdy. And cute! So cute. If your storage is overflowing with toys and gifts from the holidays, or you're starting to decorate a nursery, you need to check these out. Right now at Amazon Canada, a few different 3 Sprouts storage products are on sale -- select sizes and designs are up to 50% off.
Click here to purchase 3 Sprouts Storage Caddies @ Amazon.ca now
Click here to purchase 3 Sprouts Storage Bins @ Amazon.ca now
Click here to purchase 3 Sprouts Laundry Hampers @ Amazon.ca now
Starting on the smaller end, the 3 Sprouts Storage Caddy is perfect for any nursery to store all your diaper changing products and all sorts of small odds and ends you need at hand. The canvas is coated on the inside so it can be easily wiped clean of diaper rash cream. There are 8 designs available; a different animal and colour scheme on each. Seven of the designs are 45% off at $11.99 (Mr. Orange Beaver is still marked down but only by 32% to $14). The Pink Pig would be great with a girly theme; and the Blue Walrus in a boy's blue room.
I love the 3 Sprouts Laundry Hampers. There are 3 designs marked down by 20% to $15.99: the Purple Octopus, Pink Swan and, my favourite cutest Yellow Lion. These are great for keeping dirty laundry out of sight but also practically designed. The large handles fold down, leaving an opening for the clothing while keeping the contents hidden and when it's time for a wash, just pop the handles up and carty the whole thing right to the laundry room.
These adorable Storage Bins will make it easier to get the kids to help with clean up. They're a good size for toys at 17" tall but they fold flat when not in use. They've also been coated on the inside to make it easy to wipe clean any messes. As with the other items, the different designs have been discounted by varying amounts but a few of them are 50% off at $15.99. This includes my personal favourite, Purple Hippo! The others have been marked down by about 38% to $19.99.
There are a few more 3 Sprouts storage solutions that are on sale but a lot of them have estimated ship dates of 1-2 months. If you're the patient sort, there are some great options like the Storage Boxes that are perfectly sized to fit most cube shelving units and the larger Toy Chests; but I wanted to highlight some of the great things that are in stock. If there's a design you just love but Amazon has indicated there will be a delay in shipping, I think you should grab it anyway. It will be worth the wait! As you can see by the reviews, 3 Sprouts' stuff is very much loved and celebrated for its durability, functionality and great looks. I love finding things for kids that aren't all loud primary colours but still appealing to the little ones.
If you're not a Prime member, your Amazon Canada order of $25 or more will ship to you for free.
(Expires: Unknown)