Unique Toys from $7 and up @ LearningToys.ca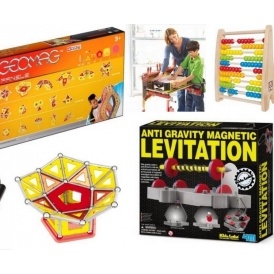 LearningToys.ca has some great toys on sale right now.
The Red Toolbox Build Your Own Air Hockey Kit is an intermediate Level 2 wood working project that creates a real air hockey kit. It's $29.99 down from $54.99.

You can't find a better price than this right now - for $74.99, down from $94.99, this Geomag Panel Sets with 104 pieces features classic magnetic rods and non magnetic spheres with bright and transparent panels. It's one toy your kids (recommended for ages 6 and up) will always go back to.
Not every kid is interested in science but every kid is interested in magnets! The Anti-Gravity Magnetic Levitation Science Kit by 4M lets kids build a levitating pen that floats & rotates in the air, create a maglev robot, a magnetic fortune-teller, a random motion machine, and more. This is on sale for $22.99 down from $29.99.
Getting back to basics, this Hape Rainbow Bead Abacus is $19.99 down from $26.99. It's gorgeous with the bright colours and wood construction.
Shipping is free on orders over $75, otherwise will vary starting from $9.99 depending on location.