Ty Beanie Babies From $3 @ Toys R Us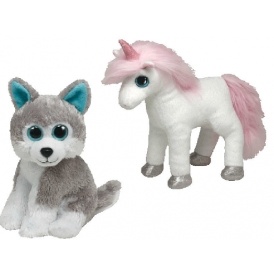 Cutest. Stocking stuffers. Ever. Get your hands on these Ty Beanie Babies on sale at Toys R Us - you can get all sorts of characters like the Teenage Mutant Ninja Turtles, Hello Kitty and more starting at $2.98 while supplies last.
I was a die-hard Sponge Bob fan when I was younger - so of course TY Beanie Babies Patrick Star stole my heart right away. He is on sale for $2.98 down from $4.98.
The Ty Ballz Plush are equally cute, too. The TMNT characters would be great for any little boy - and they can be tossed around too! My favourite is the Ty Ballz Plush Donatello Purple Mask which is $2.98 down from $4.98. You can also get something like the Ty Ballz Plush Toby the Orange Giraffe for the same price.
Think baby shower gift, and get the Ty Pluffie Plush Winks Elephant on sale for $4.78 down from $7.99. Or even the Ty Beanie Babies Plush Mystic Unicorn which is on sale for the same deal.
Toys R Us has free shipping on orders over $49, but some of these Beanie Babies are available for in-store pickup or in-store only. So be sure to check that out before deciding on your shipping method.