Two Imaginarium Play Sets For Just $95 @ Toys R Us!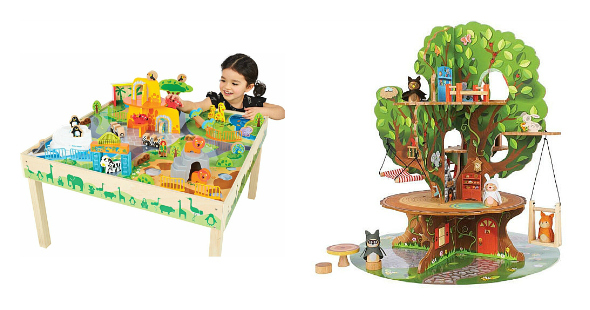 As we wrote about previously, Toys R Us is offering a buy one, get one half price deal on their Clearance toys. We've found a combination that will get you two great, normally expensive toys for one low price! Imaginarium is a brand exclusive to Toys R Us that offers specialty and learning toys in five 'worlds' of play: Express, Creations, Discovery, Home and Pretend. The world of Discovery consists of classic wooden toys, puzzles and building sets and there are two items from this world on Clearance right now. The Imaginarium Zoo Play Table was originally $129.99 and has been discounted by 46% to just $69.98 and the Imaginarium Forest Friends Treehouse, which was $79.99, is now $49.98. But if you purchase these two play sets together, you'll pay just $94.97 for both -- a total savings of 55% off the original prices.
Both of these toys look are beautiful, colourful and look like so much fun!
Imaginarium Zoo Play Table
This features classic wooden toys on a sturdy table for imaginative play for your little ones. The table measures 30" x 30" and comes with 19 animals that complete the colourful zoo world. Passing through the grand entrance arch leads to habitats for the animals like monkey mountain, penguin igloo and slide, lion's den, elephant hut and a large tree. There is a 2-car zoo train and a zoo keeper figure to drive through the play world. The set comes with a storage tote to hold the 50 total pieces and the table does double duty -- the graphic-covered board converts to a plain play table.
The Imaginarium Zoo Play Table has very solid reviews and is lauded for its ease of assembly and stability. A refreshing change from most kids' toys!
Imaginarium Forest Friends Treehouse
This treehouse set includes 16 pieces to keep your kiddo busy including: table and chairs, ladders, a slide, bed, hammock, hideaway, playmat, skytop perch, swing and 4 critter friends (a bunny, fox, owl and raccoon). Whew! I think I would enjoy playing with this! Kids can take their woodland critters to the skytop perch, or for a nap in bed; they can relax in the hammock or swing on the cute wooden swing set.
Reviews for the Imaginarium Forest Friends Treehouse also has wonderful reviews. It seems one person may have had a defective set but even they say that, apart from that anomaly, it's a great toy. As this is the lower priced item, when added to your cart with the above set, its price drops to only $24.99!
When I proceeded to checkout at ToysRUs.ca, I was given a shipping cost of $27.78 but a $20 shipping credit was also added ($10 for each item), so my total shipping was less than $8. Not bad at all, in my opinion, for two large toys.
What do you think, Moosers? Do you have any little ones in your life that would love these?
(Expires: Unknown)