Turn Any Cup Into A Sippy Cup with SiliKids Siliskin Sippy Top Lids Only $12 For 2 @ West Coast Kids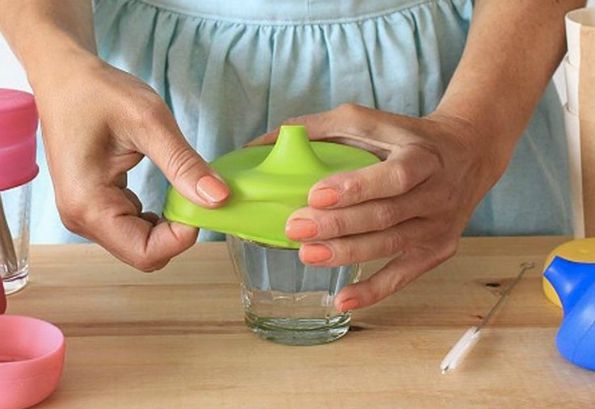 Picture it: You are out at a restaurant that isn't the most kid-friendly (you love their steak) and they bring your kid's chocolate milk in a rocks glass. You know that chocolate milk is going to end up on someone, so you have to spend the entire meal holding the glass for your child or risk leaving there stained forever. Believe me, I know all about this. What if you carried a few of these Silikids Siliskin sippy top lids in your purse that virtually turn any cup or glass into a sippy cup - meaning - no spills! I found this product so cool, and I think any mom with kids under 6 will too! A few stores sell this, but I found it for only $11.99 for two lids at West Coast Kids, which far beats out the competition for this product.
Made of silicone, you just stretch the top over any size cup and it will grip on in place without leaking from the sides.I also love that this isn't made from plastic, so if you want these at home so your kid can drink out of glass but don't want to pay the exorbitant prices for glass bottles or sippy cups (I don't know if I've ever seen a glass sippy cup), you can use this is a safe alternative.
What's also super cool is that you can put these right in the dishwasher and there are no hard to reach areas where milk and other liquids can congeal, which is one of the biggest pet peeves of mine when it comes to sippy cups. Super gross!
As I said, I found these at various stores in Canada and here are some price comparisons:
To my surprise, we haven't yet blogged about West Coast Kids, which is a store based in Winnipeg that has free shipping on orders over $49. I also noticed that if you find a price cheaper somewhere else, they'll match it plus take off another 10% from the difference you would have gotten. So even if I found these tops cheaper elsewhere, I could have price matched with them to get them another 10% cheaper.
(Expiry: Unknown)