Toys R Us: LEGO Space Hive Crawler Was $90 | Now $67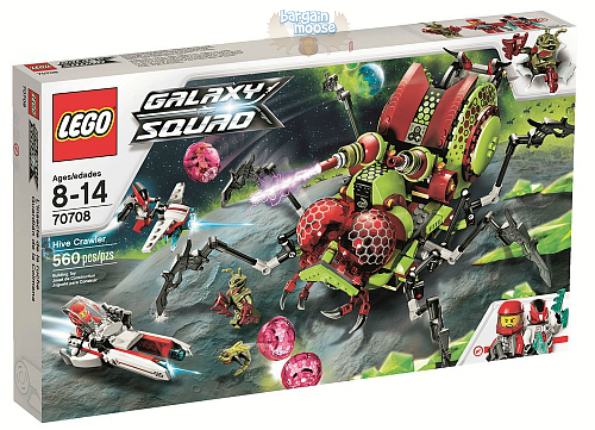 Toys R Us is selling the LEGO Galaxy Squad Space Hive Crawler for $67.47 with free shipping. This cool bug like Lego set was originally priced at $89.99.
I did some extensive price comparing as Lego sets are sold at many places. I wanted to make sure you were getting the best deal on a toy such as this, especcialy as a large set like this is often an investment piece. Here is what other companies are selling the set for:
$89.99 @ Lego Canada
$89.99 @ Future Shop Canada
$89.99 @ Best Buy Canada
$89.86 @ Walmart Canada
$69.45 @ Amazon Canada (7 left)
As you can see, Toys R Us has the best price with Amazon coming in a close second. However, Amazon's stock is quickly selling out with only seven sets left in stock as of this post. Once it sells out, you would have to wait for the product to be restocked.
Toys R Us not only has a cheaper price by several dollars, it also is still in stock and includes free shipping to your home. For those wanting to get this in time for Christmas, you can choose "Free In-Store Pickup Today" when you checkout. This is an option that Amazon, unfortunately, does not have.
The set includes a ton of cool features including:
2 insectoids and 3 minifigures with weapons: red team leader Billy Starbeam, robot sidekick with jetpack and an alien mantizoid. Features an egg launcher, 2 hatching eggs containing 1 flying and 1 crawling insectoid, razor-sharp moving legs, rotating laser guns, a pinching mouth and an opening cockpit with space for a minifigure.
There are tons of other cool features like blasters and detachable parts that pull double-duty. The Hero's speedster converts from a sky speeder into a planet speeder.
Overall, this set promises loads of fun. The reviews on Lego sing the set's praises with the only downside often mentioned is price. Many reviewers think that the set is overpriced - but still completely awesome. This reviewer said:
I have to say that this set is completely awesome. All the pieces are great with many rare pieces for collectors and MOCers (My Own Creation). Plus the leg mechanism and the larva egg launching system just add to the greatness.
Well, now you can save a good chunk of money and still get one of the coolest Lego sets out there. This set has been rated as challenging, and adults have taken around 1.5 to 2 hours to put it together alone. Enjoy!
(Expiry: unknown)