Toys R Us: Disney Frozen Deluxe Baby Dolls Were $25 | Now $14.97

Toys R Us has a cute deal on Disney Frozen Deluxe Baby Dolls. Originally $24.97 each, the dolls are on sale for $14.97 each. Choose from Elsa or Anna, though I highly recommend you get both dolls!
First of all, this deal is best when you purchase both dolls. Toys R Us is offering $10 off shipping on orders of $25 for these dolls. Two dolls come to $29.94 and even shipping to the Island was under $10 so it becomes free. You can see my demo cart total below: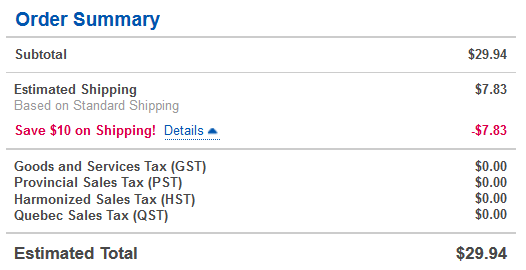 Therefore, this is the best way to save money on the dolls and not spend that money on shipping. Besides, I am sure most girls would like to have both dolls so they can play with them together.
I price compared these dolls but really could not find them many places. I did find the Disney Princess dolls from the same series (but no Frozen dolls) at Walmart Canada for $19.94 each. A secondary seller on Amazon is selling the Disney Frozen Deluxe Elsa Baby Doll for $59 with free shipping. Toys R Us Canada is selling the dolls on eBay as well, but the $8 shipping charge per dolls makes it silly to buy on eBay when you can get free shipping buying through the Toys R Us website.
These dolls are super cute. They look a lot like Elsa and Anna from the movie, but in baby girl form. Both dolls come with clothing styled after their icon outfits from the movie. They have rooted hair and big beautiful eyes.
The doll is good for boys and girls alike. One mother said that her 2.5yr old son wanted an Elsa doll so she bought him this one:
The moment I took it out of the box, he clutched it worshipfully and thanked us profusely! He's not been separated from it since. He nibbles on the feet and hands, and carries her by the hair. It's held up so far!
I think that is adorable. I have to say that Elsa is my favourite of the characters though people I know like Anna more. I don't know anyone who really likes the snowman.
Together these dolls are a great buy. They are also really hard to find - not only in Canada but in the USA as well.
(Expiry: unknown)