Toys R Us Canada: Up to 50% Off Bikes, Ride-ons & Scooters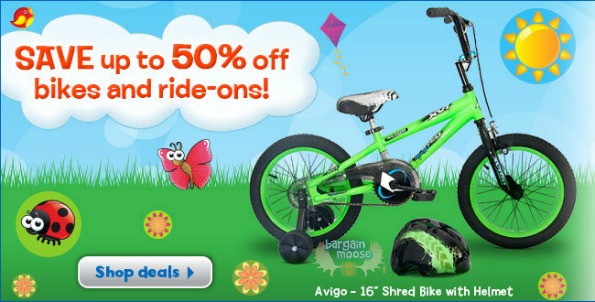 Toys R Us is getting you ready for the warmer weather with up to 50% off bikes, ride-ons and scooters.
As I said in an earlier post, my kids are learning to ride bikes this summer. One of my sons is balking at the idea because he is happy just riding his scooter everywhere. I do love that he rides a scooter too, although it can't keep up to the bikes. He has been riding his scooter since he was two and is quite fast and now his littlest brother is taking after him in the fast department on his scooter.
This Xgames 120mm scooter is great for kids from age 5-7 and the simple graphics make it cool. Get it for only $24.97, regularly $49.99.
Check out this Step 2 wagon for two plus in pink. I've had this wagon and I have to say it is very handy, especially when you need seating for more than one and maybe for your stuff. This is a durable wagon. Get it for only $59.97, regularly $89.99.
Save $50 on this Avigo 12V stylin off-road truck. She'll be zooming down the paths at 6km/h in this pink beast. Get it for only $199.97.
Most of the boy's bikes are $89.97, like this 16 X games bike with simple black styling. Regularly $119.99.
Shipping is free on orders over $100.
(Expiry: Unknown)