Toys R Us Canada: Superyard XT Gate Only $80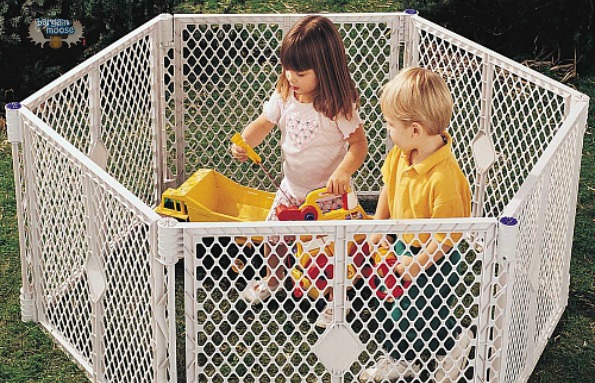 If you are looking for some kind of gating system for your kids or your dogs, Toys R Us is the place to go. Get the North States Superyard XT gate in grey for only $79.97, was $109.99.
Provide a safe play area for your children or your husband, without the chance of them escaping and flushing things down the toilet, eating a bottle of vitamins or shaving the cat. Obviously, gating them in doesn't mean you shouldn't watch them, but sometimes you need to change the laundry, cook dinner or pour some wine without someone getting hurt or doing the above things that toddlers do.
What's great is that this gate can be moved to where you need it and it doesn't scratch your surfaces. It has an easy open door for quick access, folds up quickly, and you don't need to assemble it! Great for both indoors or outdoors, it even has a carry handle. You can also remove panel sections to make it smaller, or get a panel extension kit so it can be larger.
The reviews tell it like it is:
Don't know how I survived without this before. This Superyard is exactly that, Super. My 13 month old knows now that this space is his. All his favorite toys, indoor and outdoor, fit perfectly inside this sturdy yet moveable structure.
Shipping is free when you spend over $99, so head over to the toy clearance they also have going on and add another $20 to save on the shipping fees.
(Expiry: Unknown)