Toys R Us Canada: Star Wars B1G1 Free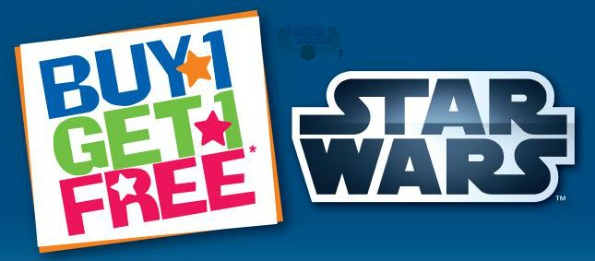 If there are any Star Wars fanatics out there this is a deal you will most definitely want to check out.  Toys R Us Canada has all of their Star Wars toys that are priced at $129.99 or less on sale for B1G1 Free.
This deal includes all action figures, role play items and vehicles as long as they are priced at $129.99 or less. There are 16 different items to choose from with this sale.  Like most deals, you will get the equal or lower priced item as your free one in your cart.  The discount will automatically appear once you put 2 qualifying items in your cart at the checkout.
This sale also includes some items that are already on sale.  I found this Talking Plush Darth Maul that was $19.99 and is now $14.97.  You could also get this Lightsaber priced at $12.99 for free. That means you get the 2 toys that would normally cost you $32.98 for just $14.97.  That is an awesome deal!
The cost of shipping will depend on what you buy and how much it weighs.
(Expiry: 6th December 2012)