Toys R Us Canada: Play-Doh Sets Were $28 | Now $16.77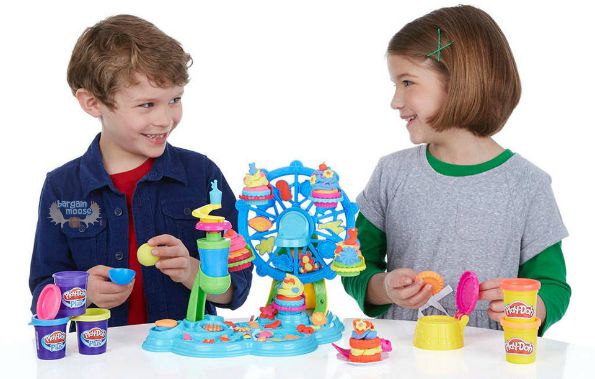 My 4-year-old loves Play Doh, but lately I haven't seen any new sets at Toys R Us. I've even travelled to different cities checking out the Play Doh stock at the local TRU and all I found were sets we already had or ones that wouldn't interest him. I was delighted this morning to see a whole bunch of interesting sets on sale at Toys R Us, regularly $27.99 and now $16.77. I don't like to spend more than $20 on a set, so this is perfect!
There is something about Play-doh that every kid loves, no matter the age. I even love to do it with the kids.I love the little food making Play Doh sets like this cupcake celebration set. First, it has a ferris wheel to store your newly made cupcakes. Second, it has a really fun and easy frosting maker for the cupcakes. Third, it has some fun decorations like sprinkles, pretend candies and more. You get quite a bit with this set including five total tins of Play-doh, plus the playset. The Play Doh in this set is that new Play Doh Plus that is supposed to be better too.
If your child would rather mix cement than dough, the Max the Cement Mixer is perfect. I have a construction type set like this and my boys love it (they love the cake making ones too). This is great for the reluctant kid who would rather run it over than model it.
Other sets that come at this price point include:
Shipping is free when you spend over $49, so for me, I'm going to get three sets and capitalize on the free shipping. I'm happy to find out that we don't have any of these sets, and we do have a lot of sets!
(Expiry: Unknown)